ASUS ScreenPad brings Apple's Touch Bar to touchpads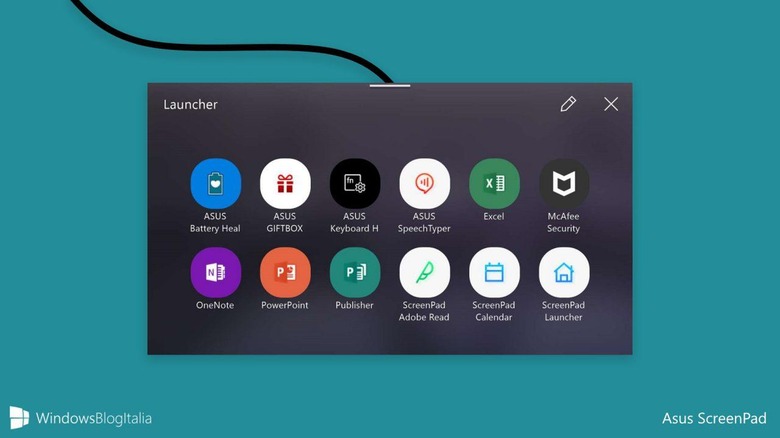 ASUS has sometimes blazed the trail in terms of innovative design, like the now common 2-in-1 detachable form factor or the sadly retired PadFone "phone in a tablet" device line. At other times, it seems to play catch up, like with the Lenovo Yoga-like "Flip" laptops. It seems that ASUS might have something in the works that's a combination of the two. Called the "ScreenPad" this mysterious device or peripheral seems to be designed to provide the same extended control that the new MacBook Touch Bars do, but on a laptop's touchpad instead.
There's still a lot of unanswered questions despite Windows Blog Italia's rather extensive analysis. It is yet unclear whether this ScreenPad is a peripheral to be attached to an existing laptop, something embedded into one, or a completely new laptop with a touch screen replacing a keyboard.
The requirements for the ScreenPad app doesn't exactly enlighten things either. It requires an ASUS notebook with a precision touchpad, an NVIDIA GTX 970 dGPU, and certain Toshiba chips. That does seem to imply that it will be an add-on at least, though the door is wide open for other interpretations.
Either way, the functionality of the ScreenPad would be the same: to provide a second screen for Windows 10 computers. Unlike Apple's Touch Bar, that screen comes in a more traditional Full HD display, which provides more room for content as well as controls. Example uses include playback controls, Spotify, app launchers, and everybody's favorite calculator.
The next big question is when we will see the ScreenPad, if it is indeed such a thing. Computex is just around the corner, so there's a chance it could pop up there. If it does, ASUS would have preempted Razer, which is planning something almost similar with its Razer Phone and Project Linda.