ASUS ScreenDUO puts SideShow in the palm of your hand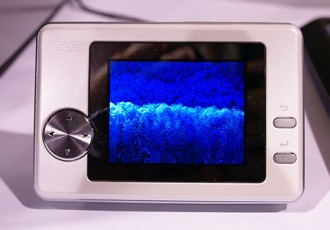 Now this might look like a bland DAP, but hold your highly-critical horses, mister – it's not.  While details are sparse, scarce, and everything in-between, it seems to be a plucky little Windows Vista SideShow display unit, such as the one embedded into the Eleksen laptop bag I was so fond of.
Capable of showing contact, email and scheduling details from Outlook, together with RSS feeds and plenty of other information and Widget-goodness from your otherwise standby-bound notebook, SideShow screens are tipped to be the next big thing in portable computing.  Considering what we see here is called the ASUS ScreenDUO, I'm with Kevin Tofel in thinking that it's reasonable to expect it to fall under the SideShow banner.
I'm curious, though; how much effort and technical jiggery-pokery would it take to fit the necessary gubbins for SideShow into a Windows Mobile Smartphone?  While this ASUS mini-display is compact, it's nonetheless yet another thing to find bag or – more likely, considering the "easy access" ethos – pocket room for.  Wouldn't it be easier to have a constantly updated cellphone relying on the processing power of your laptop together with the convenience of something most people carry round all the time?
MobileWhack [via jkontherun]