ASUS S101 gets Super Talent 32GB and 64GB SSD upgrades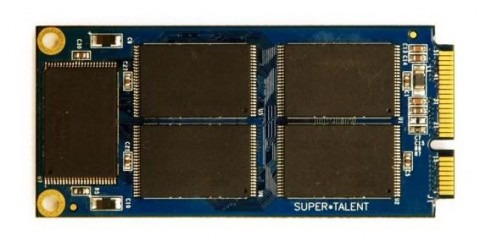 Super Talent have announced a new SSD upgrade kit, intended to make expanding the storage of the ASUS S101 "luxury" netbook more straightforward.  Replacement Mini PCIe boards are available in 16GB, 32GB and 64GB capacities; in its stock configuration, the S101 has a 16GB SSD.
That said, it's hard to imagine why anyone would switch out the standard 16GB for a new, Super Talent chip; unless the replacement is faster, but without read/write performance figures for the stock Eee PC S101 it's hard to tell.  Of much more interest are the 32GB and 64GB models, which both offer 90MB/sec read speeds and 55MB/sec write speeds.
All three chips are available now, and upgrading the ASUS S101 is said to be a relatively straightforward task for anybody who knows which end of a screwdriver to hold and how to ground themselves against static.  The 64GB chip has an MRSP of $169. 

Press Release:
Super Talent Releases SSD Upgrade for Asus S101 Eee PC

Add Up to 64GB of Solid State Storage in Minutes

San Jose, California – January 28, 2009 – Super Talent Technology, a leading manufacturer of Flash storage solutions and DRAM memory modules, today launched an SSD, offered in capacities up to 64GB, that was specially designed as an upgrade for the Asus S101 Eee PC.

The Windows® model of the S101 includes only 16GB of local storage, so Super Talent's upgrade SSD offers the S101 user the opportunity to double or quadruple the storage capacity in his netbook.

This new SSD has been rigorously tested in Super Talent's compatibility labs for both performance and functionality to ensure it meets Super Talent's high quality standards. With a SATA interface, it delivers impressive 90 MB/sec max sequential read speeds and up to 55 MB/sec write speeds.

Joe James, Super Talent's director of marketing noted, "You can never have enough storage space. This is sure to be a popular upgrade for the S101."

All three models are shipping now. The 64GB model will retail for approximately $169.

About Super Talent Technology

Super Talent Technology Corporation based in San Jose, California, designs and manufactures a full range of DDR, DDR2, and DDR3 memory modules and Flash based storage devices for computers and consumer electronics. An ISO 9001 certified company, Super Talent utilizes its state-of-the-art factory and leading-edge components to produce award winning products with outstanding reliability. Super Talent is an active member of the JEDEC and ONFI standards bodies, and holds over 200 patents in Flash and DRAM technology.