ASUS ROG Zephyrus S is oddly thin: Here's why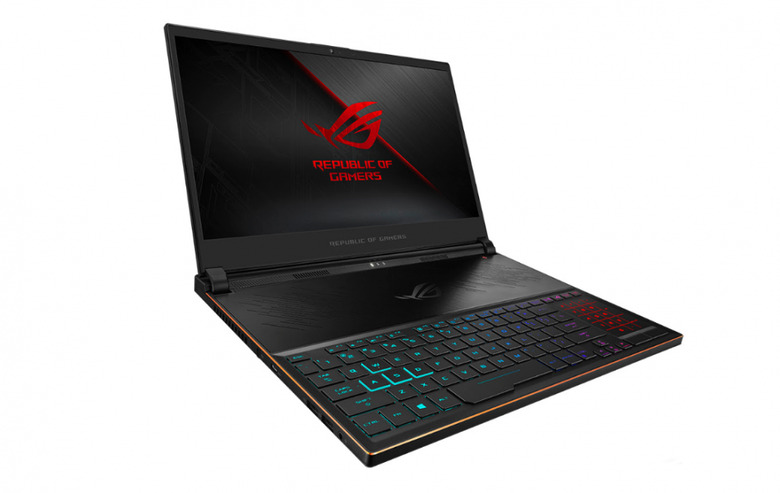 After revealing the Republic of Gamers Strix SCAR II yesterday, ASUS is back with another ROG-branded gaming laptop. This one, however, is a little strange. ROG is calling the Zephyrus S (GX531) the "world's slimmest gaming laptop," and while its overall thickness is certainly impressive (14.95-15.75mm), some interesting changes needed to be made in order to make sure everything is cooled properly.
After all, cooling is paramount in any laptop, and it becomes even more critical in gaming laptops. In order to cool components properly, you typically need to devote a fair amount of space to fans, heatsinks, and pipes – something that becomes harder to do when you're also focused on slimming things down. ASUS ROG has figured out a solution, but it's one that requires weird keyboard placement.
The keyboard was probably the first thing you noticed in that image of the Zephyrus S above. The keyboard is very far forward, and that's partially to make room for the laptop's Active Aerodynamic System. To hear ROG describe it, AAA is a system made up of special vents that open when the display is lifted, pipes that pull heat away heat away from components, a series of dedicated and shared heatsinks that are connected to the CPU and GPU, and self-cleaning fans.
ROG says that the forward layout of the keyboard also makes the laptop more comfortable to use, but that's probably up for debate among consumers. Still, it's an interesting solution that apparently helps with the cooling problem, but the big question is whether or not people want to buy a gaming laptop with the keyboard that far forward.
In any case, in a manner similar to what we see with the Strix SCAR II, the Zephyrus S puts a 15.6-inch display into a 14.2-inch chassis. That display offers a 144Hz refresh rate and 3ms response time, and covers 100% of the sRGB color gamut. The system uses an Intel Core i7-8750H CPU, and you'll have your choice of NVIDIA GeForce GTX 1070 Max-Q or GTX 1060 graphics.
We'll have more information once we get closer to release, which is currently slated for sometime in September 2018. That includes pricing information, which was notably absent from today's announcement. Stay tuned.