ASUS ROG Strix SCAR II packs a big display into a small package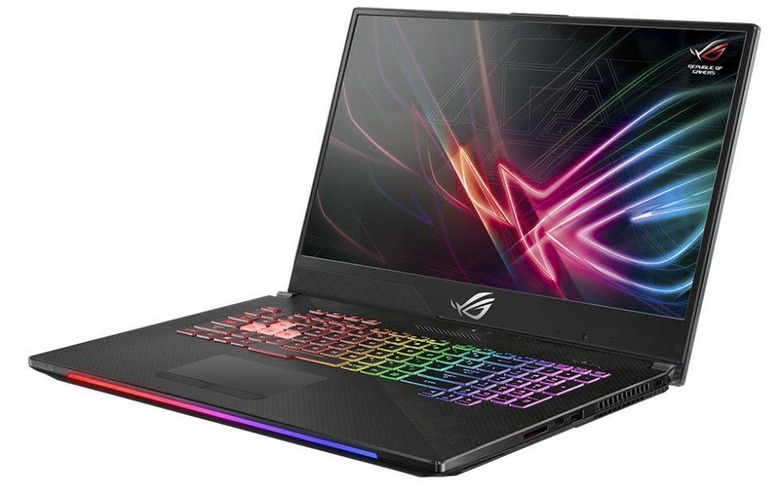 ASUS Republic of Gamers has announced a new gaming laptop, and this one has an interesting angle to it. Though the ASUS ROG Strix SCAR II (GL704) boasts a 17.3-inch display, ROG says that it's managed to pack that into a 15.7-inch chassis. The idea, of course, is to offer a big display with a smaller footprint than what would usually be required.
The display is tempting for more reasons beyond just its size, though. It also offers a 144Hz refresh rate and 3ms response time, which is great if you're looking to play games that require fast reaction times and high frame rates. It shouldn't come as much surprise, then, to hear that ASUS ROG is positioning this as a laptop for FPS gamers.
The computer comes with a full "desktop-style" keyboard, as ROG calls it, complete with a numpad and a separate row of function keys. As with any true gaming laptop, you can customize the keyboard's RGB lighting through AURA Sync, which is also compatible with the laptop's light bar and ROG logo.
Other than those features, the ROG Strix SCAR II is pretty much what we'd expect from a gaming laptop. CPU options top out at an Intel Core i7-8750H, which works in tandem with an NVIDIA GeForce GTX 1060. The laptop's HyperCool system uses three heatsinks, including one that's dedicated to the GPU. Hopefully that'll help keep things fairly cool if you decide you want to push the limits of your hardware.
So, while you probably won't be able to max out all modern games with the hardware in the Strix SCAR II, you'll be able to get some respectable performance out of its components. It's worth pointing out that the notebook also ships with ROG's new Armoury Crate software, which is a unified platform you can use to manage things like AURA Sync profiles and fan settings. It can even be controlled through iOS and Android apps as well, which is a nice touch.
Pricing details weren't announced today, as the Strix SCAR II won't be launching until sometime in September. Just as well, ROG didn't announce configuration options today, so we're not sure just how much you can customize the laptop. Those (rather important) details will be announced at launch, so stay tuned.