ASUS ROG Phone 2 official specs confirm a beastly gaming phone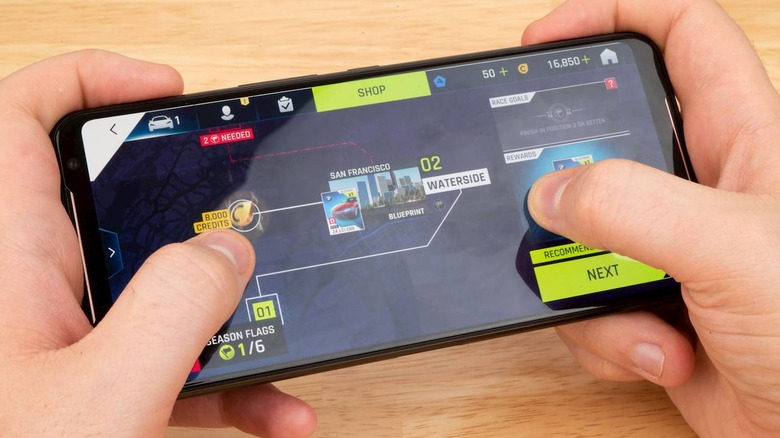 Ever since Qualcomm announced the Snapdragon 855 Plus, ASUS has been teasing the ROG Phone 2. The ROG Phone 2 will be the first phone to leverage Qualcomm's souped up Snapdragon 855, but today, ASUS pulled the veil back entirely, revealing specifications for the incoming device. We already had some inkling that the ROG Phone 2 would be a beast of a phone thanks to leaks, but today's announcement confirms it.
The original ROG Phone certainly made its presence known with an impressive spec sheet, and it appears that the ROG Phone 2 will be no different in that regard. The phone will ship with a 6.59-inch AMOLED display that clocks in at 2340 x 1080 resolution. It supports HDR, has a 1ms response time, and serves up a 120Hz refresh rate, which is an improvement over the first ROG Phone's 90Hz display. The ROG Phone 2's display is also capable of 240Hz touch sampling, so your input will be able to keep up with that high refresh rate. On top of all that, ASUS has also outfitted this phone with an in-display fingerprint reader.
Then, of course, we've got that Snapdragon 855 Plus. Qualcomm has been targeting this as a gaming SoC since the moment it was announced, so the ROG Phone 2 should be the perfect place for it to flex its muscle. The star of the show, at least as far as the ROG Phone 2 is concerned, is the Adreno 640 GPU, which is clocked at 672MHz and represents a decent step up in performance over the standard 855.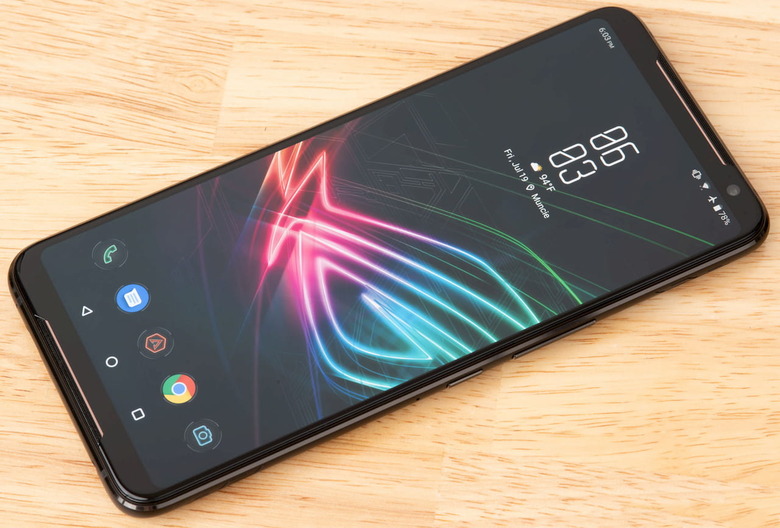 ASUS has paired that Snapdragon 855 Plus with a whopping 12GB of LPDDR4X RAM. Around the back, you'll find a Sony IMX586 sensor paired with an f/1.79 lens as the main shooter (capable of capturing 48MP images), with a 13MP ultrawide camera that boasts a 125-degree field of view. The front facing camera clocks in at 24MP, and there are a pair of front-facing speakers that support DTS:X Ultra DSP. In the ROG Phone 2, ASUS has opted for a quad-mic setup, which should help when it comes to noise canceling.
One of the more interesting quirks with the original ROG phone was its dual USB-C ports – one in the usual spot on the bottom of the device and another on the side. That side USB-C port is coming back in the ROG Phone 2, allowing you to charge and play in landscape mode and attach a number of different accessories. One such accessory – the AeroActive Cooler II – has already been revealed, which should be handy for when you don't want to rely on the phone's vapor chamber cooling alone.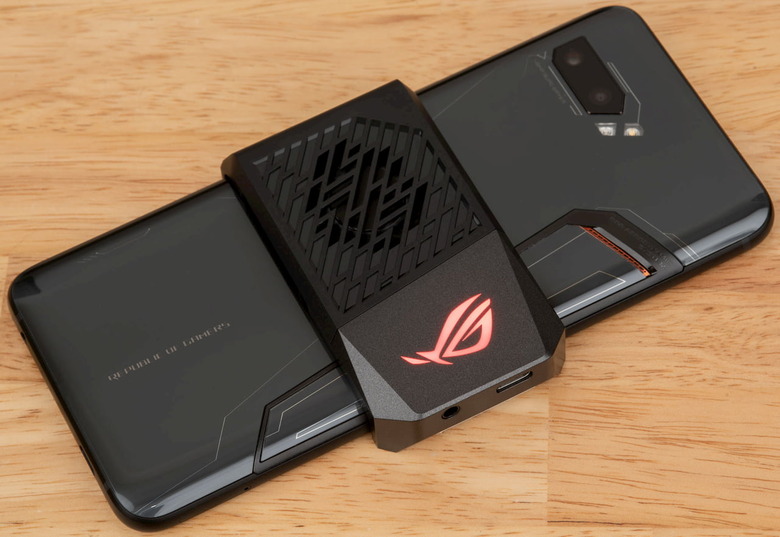 Rounding out the list of top tier specifications is the ROG Phone 2's 6,000 mAh battery. Mobile gaming is something can use a lot of power, so we're happy to see that ASUS had the foresight to outfit the ROG Phone 2 with a battery this big. All in all, the phone has a really impressive spec sheet (it even has a headphone jack!), but if you're worried that means a high price to match, you aren't alone.
ASUS hasn't revealed a lot of pricing details yet, but according to Engadget, the phone will cost NT$26,990 when it launches in Taiwan on August 1st, which is roughly $870. The ROG Phone 2 won't be heading to western markets until sometime in September, so we'll keep an eye out for more specific pricing and release information for North America. While we wait for those details to land, you can read more about the ROG Phone 2 over on the ASUS Republic of Gamers website.