ASUS ROG Maximus III Extreme mainboard gets Bluetooth remote overclocking

Is there anything the humble Bluetooth cellphone can't do?  ASUS have announced their latest Republic of Gamers mainboard, the ROG Maximus III Extreme, and the Core i5/i7 'board not only supports all the usual high-speed gubbins but allows you to control the system settings from your cellphone.
The P55 Express chipset is paired with up to 16GB of DDR3 memory, and there are five PCIe x16 slots and one PCI 2.2.  Support for both NVIDIA SLI and ATI CrossFireX is a given, and there are six SATA 3.0Gb/s ports, an Intel RAID controller (for 0, 1, 5 and 10 setups) and an external SATA 3Gb/s port for SATA On-the-Go.  You also get two SATA 6.0Gb/s ports, which certainly helps out with the future-proofing.
Ethernet is gigabit, of course, and there's a USB 3.0 controller with two ports along with a USB 2.0 controller with eleven connections of its own.  There's also twin FireWire, Bluetooth, S/PDIF and 10-channel surround sound, all in an ATX form factor.  No word on pricing, but we can't imagine this will come cheap.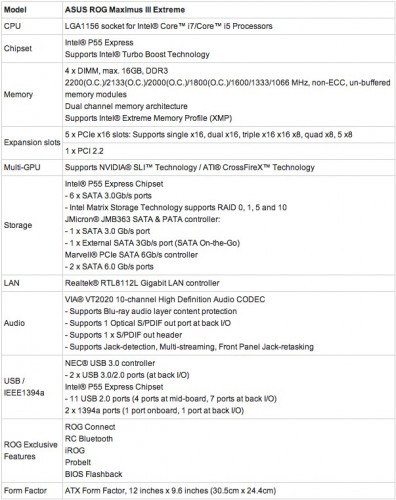 Press Release:
ASUS ROG Motherboard with Breakthrough Overclocking Interface Wows DreamHack Winter Attendees

P55-based Maximus III Extreme Supports Wireless Overclocking via Bluetooth Mobile Phones

Taipei, Taiwan, November 25, 2009 – Attendees of DreamHack Winter from November 26–29, 2009 are set to witness a milestone in overclocking history. ASUS will be debuting the Republic of Gamers (ROG) Maximus III Extreme, a bleeding-edge, P55-based motherboard that enables users to tweak system settings wirelessly over Bluetooth via a mobile phone. An extension of ASUS' proprietary ROG Connect overclocking platform, RC Bluetooth will reshape how enthusiasts approach the art of overclocking.

New and Improved ROG Connect: Extended Functionality for Greater Convenience and Peace of Mind

The four-way CrossFire-capable Maximus III Extreme is a top-end addition to ROG's celebrated Maximus III Series of motherboards. True to its ROG heritage, it sports a host of features tailored to overclocking enthusiasts and gamers. The foremost of these is ROG Connect, which was first introduced with the Maximus III Formula and Maximus III GENE. ROG Connect is an exclusive overclocking interface that enables users to monitor and tune their main systems through a notebook or netbook via USB, just like a race car engineer. The version released with Maximus III Extreme will extend ROG Connect's functionality, adding BIOS updating and recovery, diagram viewing, and on-the-fly hardware-level voltage and frequency adjustment. BIOS updating from a notebook is a particularly welcome feature for overclockers, who will no longer have to fear bricking their motherboards due to a corrupt BIOS.

RC Bluetooth: Smashing through the Barriers of Conventional Overclocking

Perhaps the most innovative addition to ROG Connect, however, is RC Bluetooth, a feature which allows users to review the status of their systems' hardware and tweak parameters wirelessly from a Bluetooth-enabled PDA phone. RC Bluetooth is also capable of performing standard Bluetooth functions, such as stereo music playback, Skype messaging, Internet access via a Bluetooth phone, and mobile phone or PDA synchronization. All it requires is the press of a button located on the rear I/O panel to toggle between overclocking and standard modes.

All Set to Astound Attendees of DreamHack Winter

The ROG Maximus III Extreme will make its first appearance at DreamHack Winter, the world's largest LAN/eSports event, and a mainstay of hardware enthusiasts. The overclocking prowess of the ROG Maximus III Extreme will also be showcased at an overclocking competition to be held during the event. On November 27 and 28, 2009, the world's best overclockers will use the ROG Maximus III Extreme to vie for the overclocking championship.
[via SlashPhone]