While ASUS proper had plenty of reveals of its own throughout the day, its Republic of Gamers line is getting some love itself. First we told you about the Strix GL 12, a new desktop gaming PC that has the potential to boast some serious hardware depending on your configuration. ROG also had some PC gaming accessories on hand today, and though they all have a different function, most of them have one thing in common: RGB lighting.
Yes, ASUS ROG seems to have gone a little RGB crazy at CES 2018. That isn't necessarily a bad thing, nor is it that uncommon. In fact, it seems that much of the PC gaming industry has fallen head over heels for RGB lighting in recent years, so these accessories should come as little surprise.
The first peripheral introduced today is the ROG Strix Flare, a new mechanical gaming keyboard outfitted with Cherry MX RGB switches which you see above. This offers mostly what we'd expect from a top end mechanical gaming keyboard, with a section of dedicated media buttons that includes a volume wheel. There's also plenty of RGB lighting that's all compatible with Aura Sync – there's even LED lights under the keyboard to give it a cool under glow effect.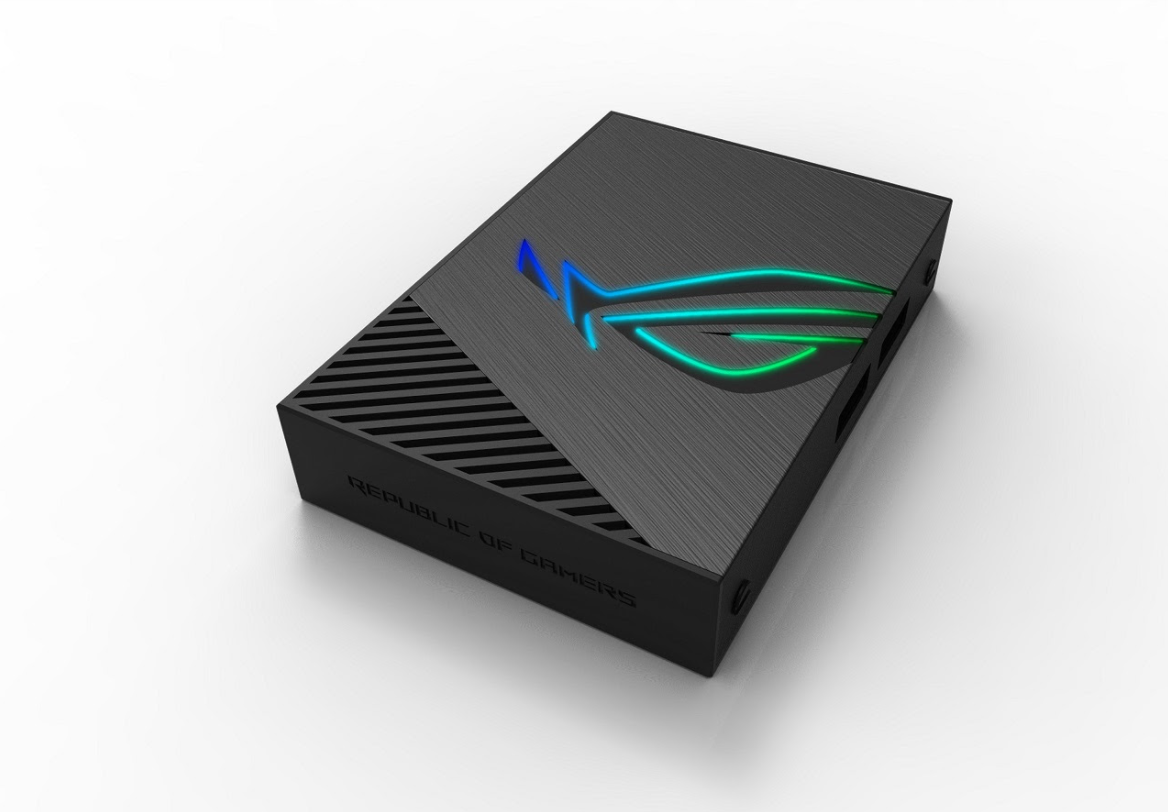 Speaking of Aura Sync, ASUS has a new accessory focused entirely on that lighting system in the ROG Aura Terminal. This is a quad-channel addressable RGB controller that "enables stunning system lighting effects synchronized to in-game action." ROG says you can even mount the terminal in your PC case and connect it to your Aura Sync peripherals to "create unified system lighting effects."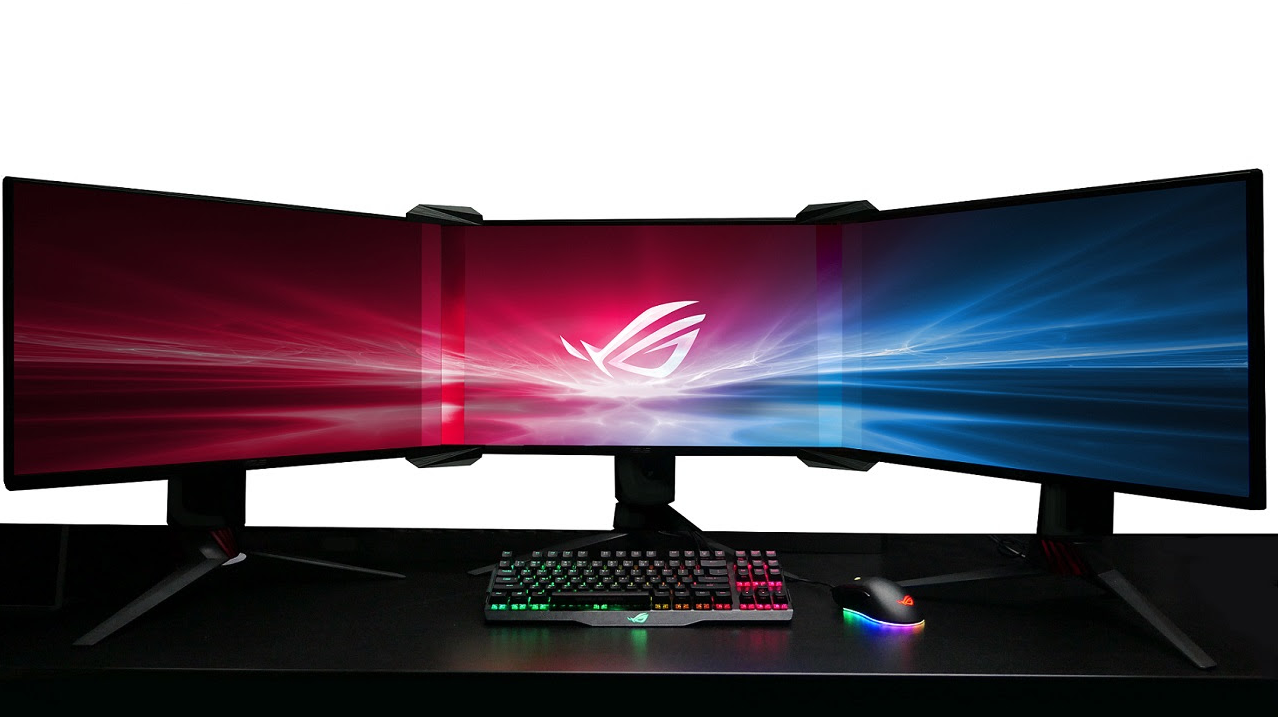 The Bezel-free Kit is sadly devoid of RGB lighting, but what it does is still pretty cool. This kit uses a system of lenses and mounts to make the bezels disappear in your multi-monitor setup. While bezels are generally accepted as a necessary evil, the ROG Bezel-free Kit uses light refraction to hide the issue, saving you from investing in new monitors with smaller bezels.
Finally, we come to the ROG Spotlight, which is something only the most die hard Republic of Gamers fans are going to want to buy. This RGB accessory is solely used to project a Republic of Gamers logo on a surface, which ROG claims will provide "an enhanced gaming atmosphere." We're not sure who exactly would shell out for something like this, but hey, if you decide to end up buying one, at least it's compatible with Aura Sync.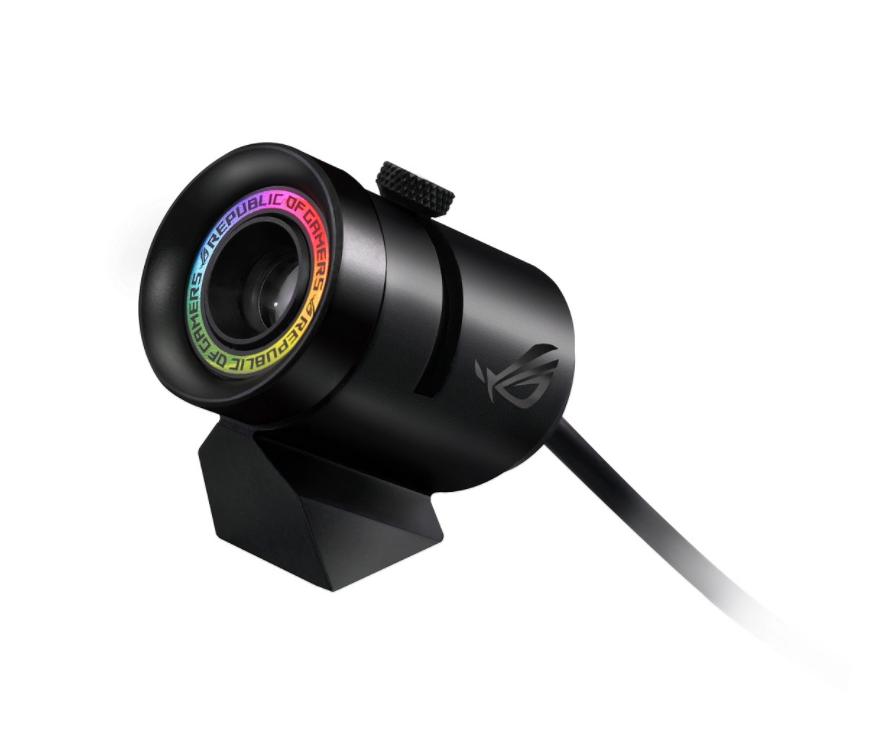 ASUS doesn't have a specific release date for these devices yet, saying only that they'll be out sometime in the first half of 2018. Pricing details weren't shared either, as those won't be announced until launch. Be sure to have a look at our CES 2018 for all of our coverage from the show, and keep it here at SlashGear for more!