ASUS ROG Strix GL 12 boasts a hot swappable SSD tray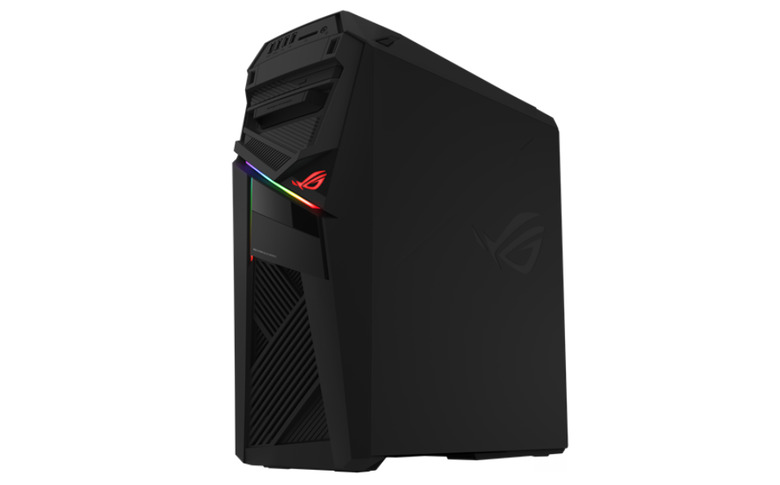 ASUS brought a ton of products to CES 2018, but to PC gamers, one of the coolest is probably the ROG Strix GL 12. In a world packed with pre-built gaming PCs, manufacturers have the task of figuring out how to make their product stand out from the rest. ASUS hopes that it's found the winning formula, which is a combination of hand-picked hardware and lights. Lots and lots of lights.
The top-of-the-line configuration for the ROG Strix GL 12 comes packing an 8th-gen Intel Core i7-8700K which, when used with ROG Turbo Gear, is capable of reaching clock speeds of 4.8GHz. That bit about "hand-picked hardware" earlier refers to ASUS's claim that each Strix GL 12 processor has been "tested and handpicked by ROG engineers to ensure the very best performance."
Of course, how much that will matter in the end is up for debate, since PC games generally rely more on GPUs than CPUs. If you're looking for GPU power, however, the Strix GL 12 certainly has it, with configurations featuring up to a NVIDIA GeForce GTX 1080. If you don't need quite that much power, you can go as low as a GTX 1050, though configurations featuring a 1060 or a 1070 will also be available.
One of the coolest features of the Strix GL 12 is its 2.5-inch SSD try that "can be replaced on the fly without to shut down the system." There's enough room on the inside to hold up to two HDDs as well, so if you have an extensive Steam library (which isn't out of the question given the most recent sale), you'll be able to pack this machine with extra storage.
As far as lighting is concerned – perhaps the most important part of any gaming rig – ASUS notes that the slashes on the front panel light up and are configurable through ROG Aura Sync. On top of allowing you to customize the lights on the chassis itself, Aura Sync will also let you sync those lights up with any other ROG Aura Sync peripherals you have, be they mice, keyboards, or headsets.
ASUS says that the ROG Strix GL 12 will be available in the second quarter of this year. Pricing won't be announced until launch, but you can expect the top-end model to cost quite a bit of money. Be sure to have a look at our CES 2018 hub for all of our coverage from the show, and keep it here at SlashGear for more!