ASUS re-announce Eee Box PC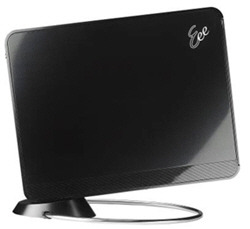 Bizarrely, despite "officially launching" the Eee Box PC at Computex 2008 back at the beginning of the month, ASUS have now officially launched it again via a press release on their site.  Thing is, the latest B202 release actually contains less detail than the first time around; for some reason they've not repeated their original pricing, $269 for the Linux model and $299 for the Windows model.
Still, the specs are consistent and we now know that ASUS will be including Express Gate, the quick-loading secondary Linux-based OS that the company claims will have you working in just seven seconds.  Otherwise it's a 1.6GHz Intel Atom N270 processor, 1GB of DDR2 RAM, 80GB hard drive, WiFi draft-n and gigabit ethernet.  No optical drive, but there's a multicard reader for quickly loading photos from cameras, say.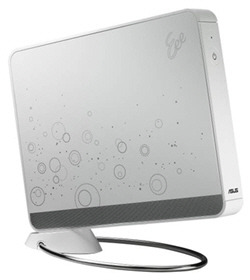 Windows XP does duty as OS, but ASUS are more proud of their mini-PC's environmentally-friendly credentials.  Power consumption is down by as much as 90-percent over traditional desktops, and to preserve your more immediate environment it only puts out 26db of noise.  No mention of release date, but a few weeks back they were saying mid-July.