ASUS Rampage IV Formula and Gene hands-on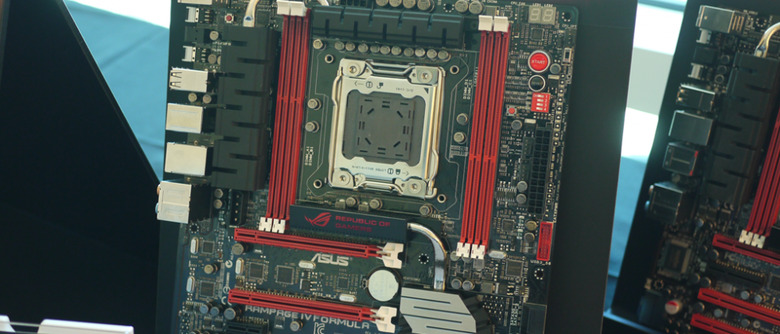 The desktop market is a little quiet as of late, but there will always be room for hardcore PC gamers, and those who are more than willing to relieve them of their excess cash. To that end, Asus showed off two new high-end motherboards in its Republic of Gamers line at CES 2012, both of which use Intel's X79 chipset. We got some hands-on time with the Rampage IV Formula and the Rampage IV Gene in a meeting with Asus, and came away impressed.
The Rampage IV Formula uses a full ATX board to inlclude all the bells and whistles: second-generation Intel Core i7 support on the LGA 2011 standard, quad-channel DDR3 2400 RAM DIMM slots with a maximum of 32GB of memory, and support for up to four (count 'em, four) Nvidia or ATI cards in SLI or CrossFireX configurations. As far as ports go, you get four USB 3.0 with an extra six USB 2.0 ports, the standard 5.1 audio interface, gigabit Ethernet, and two eSATA ports. For those of you who can't let go of your IBM Model M Keyboard, a standard PS/2 jack lets you plug in older accessories. One USB port supports the new ROG Connect standard exclusive to Asus' gaming boards, which allows you to manually adjust overclock settings from a second computer.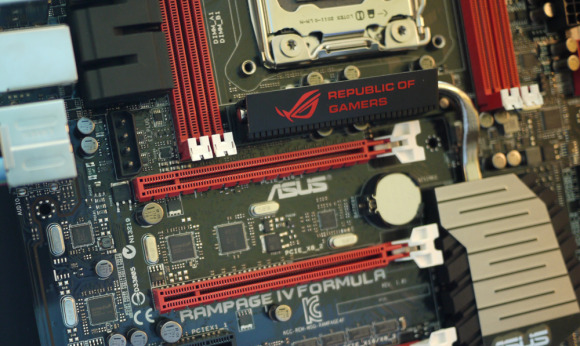 The Rampage IV Gene uses the smaller mATX standard for those who want to game on more compact hardware. This one only includes three PCI-e 16X slots, so the insanity of SLI or Crossfire is somewhat tempered. Otherwise you get the same processor and memory options, with two of the USB 3.0 ports on the back swapped out for USB 2.0. There's only one eSATA port, but ROG Connect is still present in full force. Both boards feature an aggressive red-on-black color scheme, which manages to convey a serious vibe without some of the more ridiculous lights and props that we've seen on "1337 GAMR BOARDS!!!!!" lately.
Asus didn't mention a price or release date for either motherboard, but you won't have to wait long to find out – both should be available in the next week.