ASUS planning 23 model Eee PC range altogether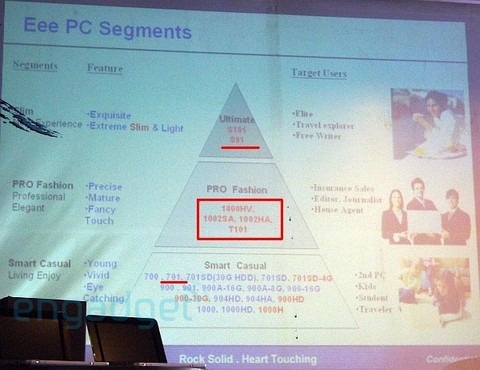 ASUS have already been accused of an almost ridiculous level of variation among their Eee PC brand, and going by this leaked presentation slide they're either blissfully unaware or playing to form.  Sent to Engadget Chinese, it documents a full 23 models and differentiations.
Some of the models are existing Eee PC notebooks, but some we haven't yet seen and would appear to be upcoming devices.  The new 'Ultimate' range, including the S101 and S91, are described as "extreme thin and light" and could be seen as rivals for Dell's upcoming E Slim.
There's also new models in the PRO Fashion range, including the 1000HV, 1002SA, 1002HA and T101.  Some have suggested that the T101 could be an official touchscreen Eee, perhaps even the rumored slate tablet PC; ASUS' description of the range as "Fancy Touch" might point to that, or it could describe a more luxury case finish.
[via Engadget]