ASUS PadFone runs IE8? [Video gaffe]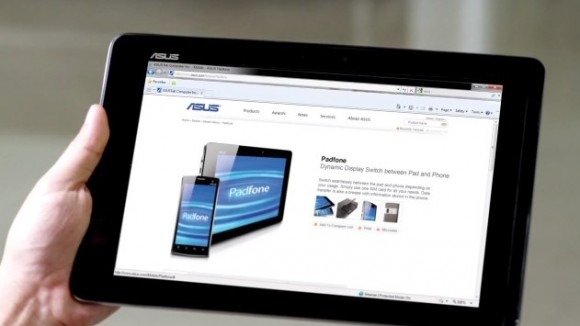 ASUS is mighty proud of its PadFone, but it seems in its hurry to get the prototype ready for Computex 2011 this week, some of the more unusual features have gone unmentioned: namely, the fact that Internet Explorer 8 apparently runs on the tablet. In what we're guessing is a mockup accident, the new ASUS "Behind the Scenes" video showing the PadFone's design journey shows Microsoft's IE8 getting some surfing playtime, where we'd normally expect to see the regular Android Honeycomb browser.
Jump forward to around the 1:08 mark in the video below, and you can see the PadFone tablet section using the PC browser. Of course, this could be an impromptu demo of the same Eee Pad PC Suite remote access app as on the Transformer, allowing you to log into your home computer and use it as if you were there.
Still, we can't mock too much, not when ASUS CEO Johnny Shih is so darn enthusiastic about his new toy. "Have the best of both devices with an ASUS PadFone" he suggests, and – when the tablet finally does make it to market in Q4 2011 this year – we reckon plenty will at least consider it.