ASUS PadFone Revealed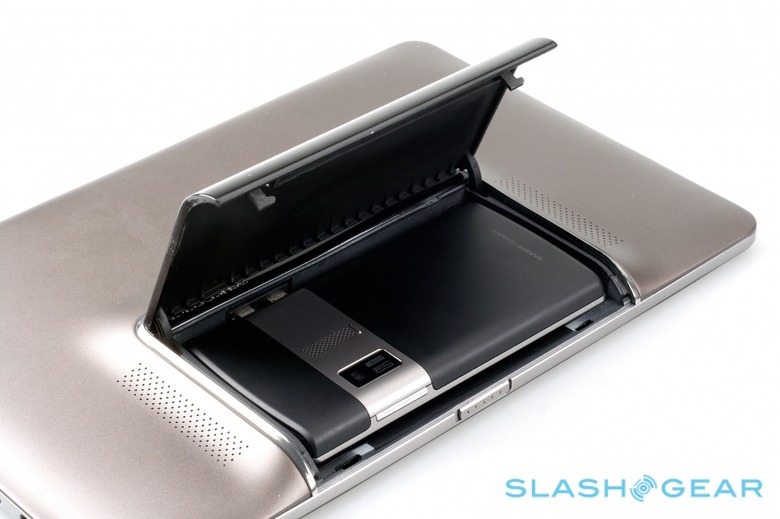 ASUS has been running quite the little teaser campaign, but the ASUS PadFone has leaked out somewhat ahead of schedule. Set to be launched at Computex 2011 tomorrow morning, the PadFone consists of an Eee Pad Transformer style slate with a section at the back that opens up to accept a smartphone. Once docked – with what looks to be HDMI and USB ports slotting into the side of the handset – the tablet offers a lot more screen real-estate and, we're guessing, a fair chunk of added battery life.
Specifications aren't clear at this stage, but from the comparison photos with the Eee Pad Transformer we can tell that the PadFone has a 10.1-inch display and similar dimensions. A hole on the rear hatch allows the phone's 5-megapixel camera to be used, and hopefully it'll be capable of better results than the unimpressive camera on the Transformer.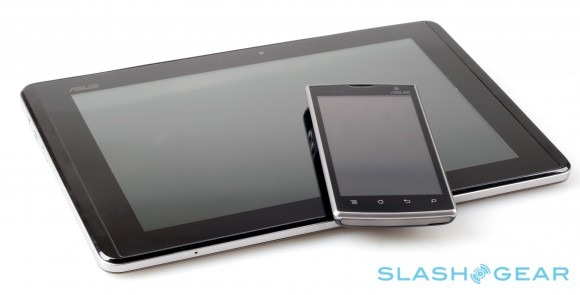 Connectivity on the slate itself is minimal, though it does look like ASUS has given it stereo speakers and a front-facing webcam. OS is uncertain, though the likely possibility is Ice Cream Sandwich since that will be the flavor of Android which brings together the tablet and phone strands, and will thus suit both the handset-sized touchscreen when the phone alone is used, and the 10.1-inch slate screen when it's docked.
We should find out more tomorrow at ASUS' morning press event.
[Thanks "Padfone"!]