ASUS P6T Deluxe Core i7 motherboard reviewed: blandly delivers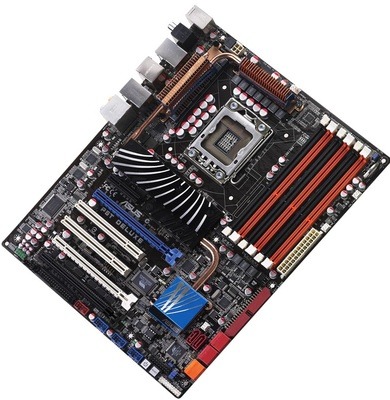 Intel are gearing up to launch their new Core i7 processor, formerly known as 'Nehalem', and so manufacturers are starting to put out compatible motherboards.  Register Hardware have had the ASUS P6T Deluxe on the test bench, complete with six DDR3 RAM slots, 16+2-phase power design, three PCI Express 2.0 slots and onboard Crossfire and SLI.  However, because the Core i7 isn't actually officially released yet, they can't tell us exact processor performance figures.
"[We'll] just say that the quad-core Core i7 which we set to 2.66GHz then 3GHz crunched through benchmarks as effectively as the clock frequency suggests. It's a similar story with triple-channel DDR 3 running at 1066MHz. The low clock speed hurts latency, while the integrated memory controller and triple-band feature delivers bandwidth like there's no tomorrow" Register Hardware
What they can say is that there were no real surprises.  The quadcore Core i7 they tested with performed as well as could be expected, both at native clock speed and when overclocked to 3GHz, while Intel's RAM memory controller – now integrated into the CPU itself – performed admirably and were only hampered by the RAM speed itself.
ASUS also include an external display called the OC Palm, which looks like it should be a Vista SideShow device but in actual fact is to adjust overclocking settings on-the-fly.  In all, though, they rate the P6T Deluxe as capable but not especially exciting, covering all the bases but certainly not the must-have Core i7 motherboard.