ASUS P565 800MHz CPU whips rival in video benchmarking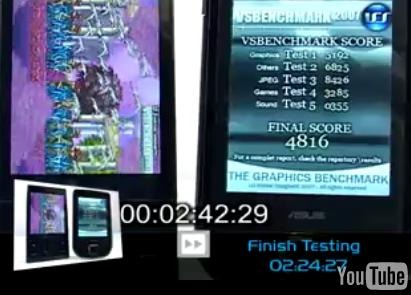 Back when ASUS announced their P565 Windows Mobile 6.1 smartphone last month, one of their most impressive claims was that its 800MHz processor is good for Vsbenchmark scores near double those of rival handsets.  Now video demos of the smartphone in action, up against an HTC Touch Diamond, show just how fast the P565 is.Check out the video comparisons after the cut
The first test pits ASUS against HTC in running Vsbenchmark.  The P565 finishes the test in just over 2 minutes, 24 seconds; meanwhile the Touch Diamond, which has a 528MHz Qualcomm CPU, takes just over 4 minutes, 7 seconds.  Its score is 2615, compared to the ASUS' 4816.
If that just sounds like numbers to you, then the second video may be of more interest.  In it, the two smartphones play back high-resolution pinball videos, with the P565 running smoothly and the Touch Diamond much less so.
ASUS have not confirmed US or European availability or pricing for the P565 yet.  In Hong Kong it will be priced at HKD$3,980 ($514), while in Taiwan it will be priced at NT$21,800 ($651).
ASUS P565 Vsbenchmark test:
ASUS P565 video playback test:
[via Engadget China]