ASUS O!Play HDP-R1 media streamer forgets the WiFi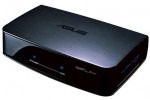 ASUS have announced the O!Play HDP-R1 HD Media Player, a compact wired-only media streamer intended to funnel local and network content into your HDTV.  Supporting HDMI and composite A/V connections for the display and a choice of USB 2.0, eSATA or wired ethernet, there's also an optical digital audio output for use with a surround sound amp.
Supported codecs include MPEG 1/2/4, H.264, VC-1 and RM/RMVB, with a list of file formats as long as your arm; check out the spec sheet below for full details.  The O!Play HDP-R1 will also play back music and images, including FLAC and OGG files.
The absence of WiFi draft-n support will likely be a deal-breaker for many, though those who have eSATA hard-drives and would like to play content from them might find something to appeal here.  No word on pricing or availability as yet.