ASUS Nexus 7 docking station to arrive in December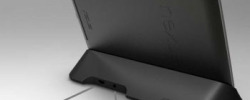 Sometime early next month, ASUS will be launching a docking station for the Nexus 7. The device is the first of its kind, and is priced at 3,480 Yen, which is about $40USD. The pictures show the Nexus 7 being docked in landscape mode, with an audio port and micro USB port on the back of the unit.
The Nexus 7 docking station features a 3.5mm audio port on the back. Says the website, "It is necessary to connect the USB AC adapter [when using audio output] to power the docking station at all times." The Nexus has to be running Android 4.2 in order to use the dock. The unit measures in at 219mm x 65mm x 30mm, and weighs about 280 grams.
This is the only Nexus 7 docking station available with an audio output feature. It appears to have been available for preorder at some point, with the product page stating both "Now accepting reservations" and "Reservation has ended." There's no definite date for when it will be released, with the website merely stating "Will be released in early December 2012." Of course, that could be as early as next week, so you might be able to nab one before Christmas.
The Nexus 7 runs Android Jelly Bean, and brings with it a host of hardware that makes the price-to-power ratio excellent. Inside you'll find an NVIDIA Tegra 3 quad-core processor. The display is a cool 7-inches offering 1280 x 800 resolution. It has all the trimmings, including a gyroscope and accelerometer. You can check out our full review of the tablet here.
[via ASUS]