ASUS N61JV brings NVIDIA Optimus to UK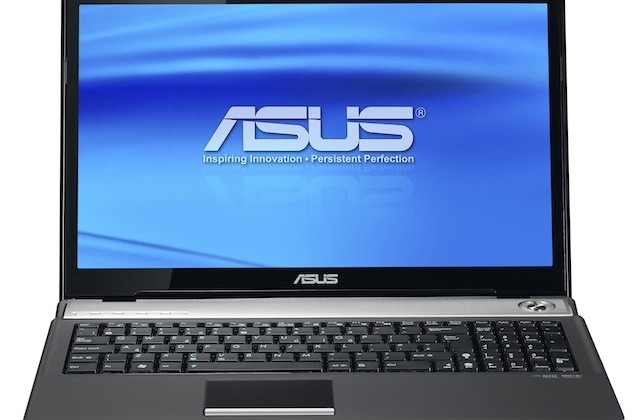 ASUS USA may have beaten them to it when it comes to getting a NVIDIA Optimus notebook on the market, with the U30jc, but ASUS' UK arm has a 16-inch machine of their own that takes advantage of the automatic graphics switching tech.  The ASUS N61JV packs a 2.27GHz Core i5-430M CPU along with 4GB of DDR3 memory, but of course the interesting part is the dual-GPU thanks to both Intel GMA 4500MHD and NVIDIA GeForce GT 325M 1GB graphics.
There's also a 500GB HDD, Blu-ray combo drive, WiFi b/g/n and Bluetooth 2.1+EDR.  Connectivity includes gigabit ethernet, a USB 3.0 port, two USB 2.0 ports, eSATA, HDMI and VGA, along with audio in/out, ExpressCard and an 8-in-1 memory card reader.  Since it's not the smallest machine in the world, ASUS have found room to fit in a separate numeric keypad and Altec Lansing speakers along with the 1.3-megapixel webcam, though we're a little disappointed that the screen resolution is a mere 1366 x 768.
Still, the most bizarre thing is that, while ASUS liberally talk throughout their press release about how much of a difference Optimus makes on battery life, they don't actually say how long you can expect the 6-cell battery to last.  The ASUS N61JV is on sale in the UK now, priced at £949 inc. VAT ($1,466).
Press Release:
Powerful Graphics Held in the Balance ASUS Launch NVIDIA® OptimusTM Notebook

ASUS have today announced their first notebook in the UK to feature the exceptionally smart NVIDIA® OptimusTM technology – the N61JV.

NVIDIA® OptimusTM balances high performance graphics and extended battery life. The fully automated technology sits in the background ready to switch between discrete and integrated graphics based on which programs are being used – and with no user intervention required, it presents the perfect option for even novice users to find the ideal balance with their notebook.

Users can now enjoy high definition media and other performance applications without having to worry about manually switching between two graphics processors or re-booting the application.

The N61JV is available now from a range of retailers and e-tailers at a price of £949 SRP.

Key benefits of Nvidia® OptimusTM:

NVIDIA® OptimusTM technology intelligently optimises your notebook PC, providing the outstanding graphics performance you need, when you need it, all the while extending battery life for longer enjoyment.

• Optimus technology is completely automatic allowing you to experience longer battery life and amazing visuals without having to manually change settings.

• Behind the scenes and with no interference to what you're doing, Optimus seamlessly figures out how to best optimise your notebook computing experience.

• NVIDIA graphics you've come to expect, with improved performance thanks to NVIDIA® CUDATM technology, allows you to enjoy your applications and games without interruption or worry.

NVIDIA® OptimusTM delivers smart and unbeatable graphics performance to users when they need it most:

The new N61JV model is the first in the ASUS UK portfolio to offer the intelligent NVIDIA® OptimusTM, a highly innovative technology which runs in the background and monitors which programs are being launched at any given moment.

As any program opens, NVIDIA® OptimusTM switches to either discrete or integrated (onboard) graphics, depending on the performance needs of the application.

􏰀 Discrete graphics are chosen for intense applications such as games or movies

􏰀 Onboard/Integrated graphics are chosen for less-intense tasks such as emails or editing documents

The clever part is that unlike previous archaic solutions, it doesn't require a reboot, and the user doesn't need to do anything at all – the transition is entirely automated, making it a favourable option for users who don't have the technical know-how to change graphics settings, but who still desire the optimum balance between battery life and stunning visual performance.

NVIDIA® OptimusTM offers the perfect performance balance to maximise battery life and energy efficiency:

Thanks to NVIDIA® OptimusTM technology and the unique process of switching between discrete (high performance) and onboard (low performance) graphics, users can be reassured that the ASUS N61JV notebook is only using as much power as it needs to at any one time, making it highly energy efficient and extending the battery life far beyond previous limitations placed upon a multimedia powerhouse.

USB 3.0 technology for even faster data transfers:

With the huge popularity of high definition content, it's no surprise that file sizes are becoming increasingly huge – and previous data transfer technologies are becoming cumbersome and slow to work with when moving files between media devices.

The new USB 3.0 technology on the N61JV offers data transfers of up to 10 times faster than previous USB 2.0, ensuring a speedy and efficient solution for working with files anywhere, anytime.

Specification – N61JV

• 16" HD TFT (1366 x 768, Color-Shine) display

• 64bit Windows 7 Home Premium

• Intel® CoreTM i5-430M (3MB cache, 2.27GHz)

• NVIDIA® OptimusTM graphics technology with GeForce® GT325M

(1GB dedicated graphics memory + Intel GMA 4500MHD)

• 500GB (5400rpm)

• 4096MB (2048x2) DDRIII 1066 RAM

• Integrated Blu-ray Combo drive (Blu-ray read and DVD re-write)

• 802.11 B/G/N WiFi

• Integrated 1.3megapixel webcam

• 6-cell battery

• Bluetooth 2.1 + EDR

• ASUS Express Gate

• Integrated numeric keypad

• 10/100/1000 Ethernet

• 8 in 1 card reader (SD, MMC, MS, MS-Pro, XD, Smart Media, mini SD w/ adapter, MS-Duo)

• Built-in speaker and microphone

• Altec Lansing® speakers

• SRS Premium Sound

• Ports

o 1 x Express card

o 1 x Microphone-in jack

o 1 x Headphone-out jack (S/PDIF)

o 1 x VGA port/Mini D-sub 15-pin for external monitor

o 1 x USB 3.0 ports

o 2 x USB 2.0 ports

o 1 x RJ45 LAN Jack for LAN insert

o 1xHDMI

o 1 x WLAN On/Off Switch

o 1 x E-SATA

• Dimensions 38.4 x 26.5 x 2.79~3.73 cm (W x D x H)

• Weight 2.80 kg (with 6 cell battery)

• 2-year global collect and return warranty

• SRP £949 inc VAT