ASUS motherboards with Leo-friendly AMD 890GX chipsets spotted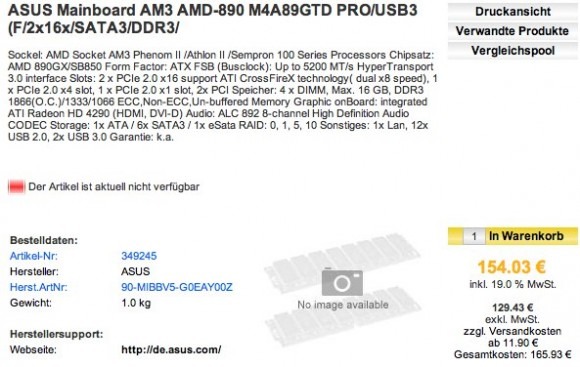 Details of two new, so-far unannounced ASUS mainboards have emerged, with one apparently tipping the imminent arrival of the AMD 890GX chipset expected to be part of AMD's upcoming Leo platform.  The ASUS M4A89GTD Pro/USB3 not only supports the new six-core Thuban processors, but squeezes in two USB 3.0 ports alongside its Radeon HD 4290 integrated graphics and two PCI Express Gen2 x16 slots.
Those slots can be used together in a dual eight-lane configuration for use with two video cards.  There's also DVI and HDMI outputs,PCIe Gen2 x4 and x1 slots, six 600MB/s Serial ATA ports and an eSATA port, along with the usual brace of USB 2.0 connections.  Several retailers are apparently awaiting stock, with prices from €150 ($204).
A second motherboard, the ASUS M4A89GTD Pro, looks to include much of the same functionality with the exception of USB 3.0 support.  It's also listed at several retailers, with pricing kicking off from €134 ($182).  AMD are expected to take the wraps off of Leo in May this year.
[via The Tech Report]