ASUS Lamborghini Eee PC VX6 Ultraportable On Sale Now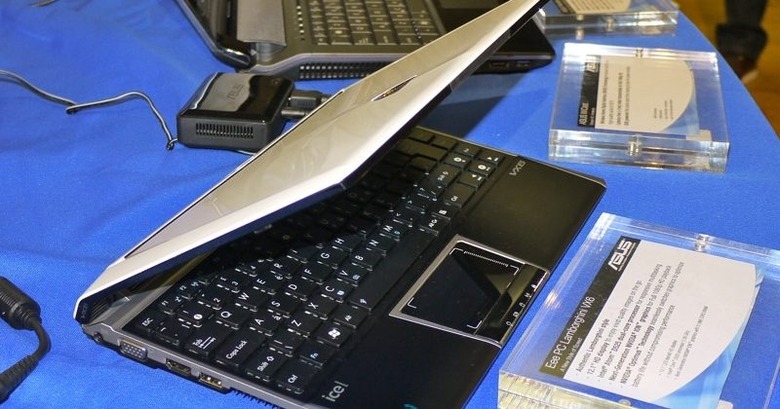 ASUS' appealing little Lamborghini Eee PC VX6 notebook, which we took a shine to back at the company's holiday showcase, has gone up for sale in the UK.  The 12.1-inch ultraportable packs an Intel Atom D525 dual-core 1.8GHz processor, 2GB of RAM and NVIDIA Ion 2 graphics with Optimus support, along with a 250GB hard-drive and HDMI connectivity.
Video demo after the cut
There's also WiFi b/g/n, Bluetooth 3.0 and 10/100 ethernet, along with USB 3.0 and USB 2.0 ports, VGA, a multi-format memory card reader and audio in/out.  ASUS squeeze in a 1.3-megapixel webcam and a 6-cell battery apparently good for up to 6hrs of runtime, too.
The ASUS Lamborghini Eee PC VX6 is available in the UK from today, priced at £499 ($799).
Press Release:
ASUS-Lamborghini Eee PC VX6: Stylishly Fast by Name and Stylishly Fast by Nature

ASUS launch ASUS-Lamborghini VX6 ultraportable with Dual Core Intel Atom D525 processor, NVIDIA Optimus graphics and audio designed by Bang & Olufsen ICEPower

ASUS have today started the engines on their latest must-have gadget – the ASUS-Lamborghini Eee PC VX6 ultraportable 12.1" notebook, co- designed by Lamborghini and inspired by the superstar Murcielago LP640 Roadster.

With the brand new, high performance dual core Intel Atom D525 processor, next generation NVIDIA Ion 2 graphics and NVIDIA Optimus technology it delivers breathtaking graphics and audio at incredible speeds.

The desirable combination of style and performance plus a multitude of connectivity features including USB 3.0 and Express Gate, make this miniature machine the perfect accessory for travelling in style.

Priced £499 inc VAT (SRP) and available from a range of retailers including www.pcworld.co.uk, Micro Anvika, www.ebuyer.com and www.laptopsdirect.co.uk.

Add a touch of style to your travel from car to computer with the Lamborghini-inspired design:

Co-branded with Lamborghini, the stunning Eee PC VX6 ultraportable takes inspiration from the Murcielago LP640 Roadster and epitomises the magnificence and power of the automotive star through a combination of sleek lines, an elegant glossy exterior in black or white and the Lamborghini badge adorning the lid. With a high-end design inside and out, the Eee PC VX6 commands attention and is a covetable accessory for enthusiasts of the iconic supercar who want to turn heads both on and off the road.

Satisfy the need for speed with the latest generation Dual Core Intel Atom D525 processor:

The ASUS-Lamborghini Eee PC VX6 boasts a Dual Core Intel Atom D525 processor – two 1.8 Ghz cores each with Hyper-Threading Technology that will be sure to leave rivals at the starting line. The four parallel processing threads deliver a boosted performance within multi-threaded software and lightening fast response times within more demanding applications.

Drive graphics and games into the smoothest dimension with next generation NVIDIA Ion 2 graphics:

Next generation NVIDIA Ion 2 brings eye-popping graphics to the Eee PC VX6's 12.1" high definition screen, with performance up to 60% faster than that of previous-generation NVIDIA Ion graphics. The result is super- smooth gaming that will keep pace with even the fastest player once the heat is on.

What's more – onboard hardware decoding promises silky smooth 1080p HD video playback for staggeringly crystal clear visuals, making this ultraportable a true winner for relishing good movies on the move.

Enjoy sound as impactful as the real Lamborghini with audio by Bang & Olufsen Icepower:

Every motoring fan can appreciate the ferocious sound of a revving Lamborghini – and the ASUS-Lamborghini VX6 has equally outstanding audio to boast about. With stereo speakers by Bang & Olufsen ICEPower and SRS Premium surround sound, the tiny machine unleashes a mind- blowing resonance which will blow your ears away whether you are enjoying music, movies or games.

Keep on the road with up to 6 hours of battery life thanks to the energy efficient NVIDIA Optimus technology:

The ASUS-Lamborghini wields NVIDIA Optimus – a highly intelligent technology which automatically optimises graphics performance to suit the applications being used – creating a balance which improves energy efficiency and maximises battery life to delivery up to 6 hours of uninterrupted computing.

Super-fast transfers, charging and boot-up with a host of software and connectivity:

The ASUS-Lamborghini VX6 is packed full of software and features to make computing life effortless. With USB 3.0, data transfer speeds via USB are up to 10 times faster than USB 2.0 and allow it to re-charge mobile devices in almost half the previous times – even when the netbook is switched off.

Bluetooth 3.0 support facilitates low power wireless data transfers from compatible devices at speeds up to 24Mbit/s — perfect for speedy music, video and photo synchronisation with mobile devices.

For users who live life on the go, the dual-operating system Express Gate offers the perfect way to boot up in record time to access a range of applications including the Internet, email, music and instant messaging.