ASUS insists Eee battery issues sorted by June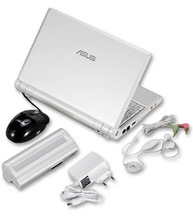 Asustek has announced that its battery shortage – which it was feared would significantly affect shipments of notebooks, particularly the popular Eee model – should be resolved by the end of Q2 this year. In March, the company warned that the shortage, which was affecting all manufacturers and not just Asustek's range, could lead to 40-percent of its Q2 orders being delayed. The problem had been caused by a fire at a major Korean battery factory owned by LG Chem.
"Ninety percent of the battery problem should be resolved by June but it could still affect April and May Eee PC sales" Jerry Shen, Chief Executive, Asustek
Shen also revealed this week that the company is planning another Eee model for release later in 2008, responding to customer demand for an even bigger screen. The 10-inch Eee will be the largest the company makes. It's uncertain whether plans for this version were delayed because of the battery crisis.
In addition to Asustek, LG Chem supplies Dell and HP, although the two companies are yet to comment on supplies. Shares in Asustek were up 1.9-percent with the news. The company expects to ship five million Eee PCs this year, made of up both the original 7-inch and the newer, larger-screened version.