ASUS Fonepad available now for pre-order in the UK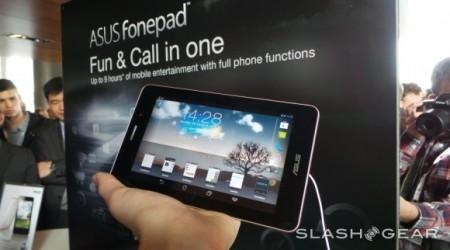 As expected a few days ago, ASUS has opened up pre-orders for its new Fonepad phone/tablet hybrid in the UK, with availability starting on April 26. You can reserve your own unit right now from Carphone Warehouse, Amazon, or Sainsbury's for just £179. Of course, this device isn't to be confused with ASUS's PadFone tablet line.
The Fonepad isn't just any other 7-inch tablet, however. As the name of the device would suggest, it also acts a full-fledged phone, allowing users to make phone calls and text message their friends, making it one of the biggest smartphones we've seen, per se. However, it's classified as a tablet, so Samsung's recently announced Galaxy Mega still holds the crown.
We actually took a look at the Fonepad back in February at Mobile World Congress and even got our hands on the device. The 7-inch display runs at an HD 1280×800 resolution, and there's a front-facing camera that shoots 1.2MP worth of photos and videos. The FonePad is powered by Intel's Atom Z2420 processor clocked at 1.2GHz with 1GB of RAM, and as far as graphics go, you'll be working with a PowerVR GX540 GPU unit.
The tablet has 16GB of internal storage, but thanks to a microSD card slot, you can bump that spec up another 32GB if need be. The Fonepad will actually come in two different variations: one with a rear camera, and one without. The one we're seeing today has only the front-facing shooter, so we're not sure when we'll see the other version.