ASUS First To The Market With 20Gbps Thunderbolt Motherboard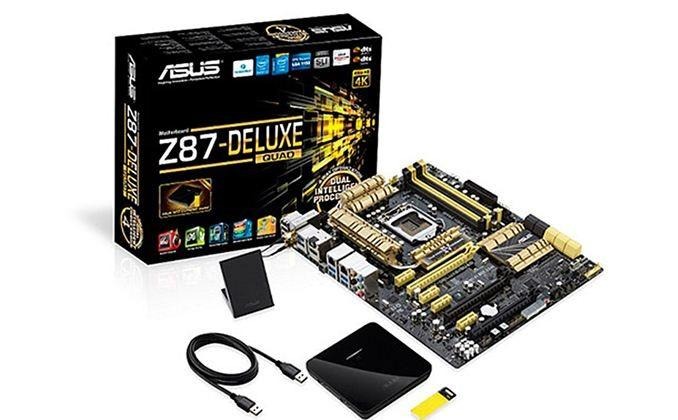 While it's been reported that we won't be seeing the new Thunderbolt standard until next year, ASUS has already announced what we believe is the very first product to sport the faster 20Gbps Thunderbolt 2 standard. It's called the Z87-Deluxe/Quad motherboard, and it takes two 10Gbps Thunderbolt ports and mashes it into one bi-directional 20Gbps port.
There's a total of two of these new Thunderbolt ports, as well as an HDMI port, eight USB 3.0 ports, and eight USB 2.0 ports. More technically, there's four RAM slots, three PCIe 3.0 slots, and a whopping ten SATA III ports. This appears to be ASUS's best motherboard yet, supporting the new Haswell chips and packing in more ports than we can imagine.
The two new Thunderbolt ports means that users will be able to drive two 4K displays through the motherboard at once, with the possibility of three if you include the HDMI port — that's a lot of pixels. The new Thunderbolt 2 is approximately four times faster than USB 3.0 and two times faster than the original Thunderbolt speed.
You'd probably expect the first Thunderbolt 2 product to be a Mac, but the ASUS motherboard you see here is for Windows PCs, and since it's Intel's technology, they're not just leaving it exclusively for Macs. Even now there are several Windows computers that come with Thunderbolt on board.
ASUS hasn't announced pricing or availability yet for the motherboard, but we're guessing it'll definitely be on the pricey side if anything. Since there's no availability, it's certainly possible that Apple could beat ASUS with a MacBook refresh this coming fall if ASUS doesn't take action soon.
VIA: AnandTech