Intel announces next-gen Thunderbolt: 20Gbps throughput and 4K support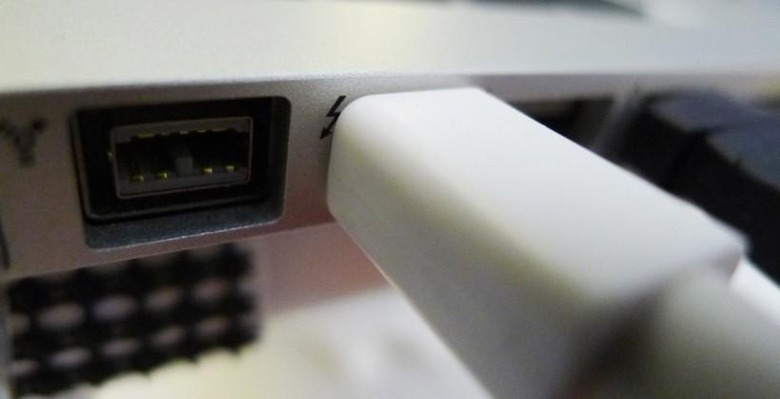 At NAB 2013, Intel just announced the next-generation of Thunderbolt, codenamed "Falcon Ridge," which is Apple's latest protocol for file transfer, as well as transmitting video. Intel says that the next-generation Thunderbolt protocol will be able to push 20Gbps and will support 4K video when it's planned to launch in 2014.
Intel says Falcon Ridge will include backwards compatibility with current-generation Thunderbolt devices, although anything using the current standard will be kept at those same speeds of 10Gbps. This means that Falcon Ridge is twice as fast as the current-generation of Thunderbolt, which is quite impressive and something that haven't seen yet.
Intel demonstrated the new technology using top-of-the-line components that are available today and were able to achieve speeds of 1.2Gbps, which is a far cry from what the Falcon Ridge is capable of, but the most obvious bottleneck is the stage at which hardware components are at right now. If you were to use current-generation Thunderbolt, you'd have to get a solid state drive just to take advantage of the faster speeds.
Thunderbolt is over two years old now, and it's becoming a mainstream feature in Apple's products, but taking advantage of the file transfer protocol is costly, with Thunderbolt external hard drives costing much more than USB 3.0 or eSATA drives. It's certainly an investment if you're looking for faster transfer speeds, but it's really worth it in the end.
[via Engadget]