ASUS EeeTop PC ET2002 Review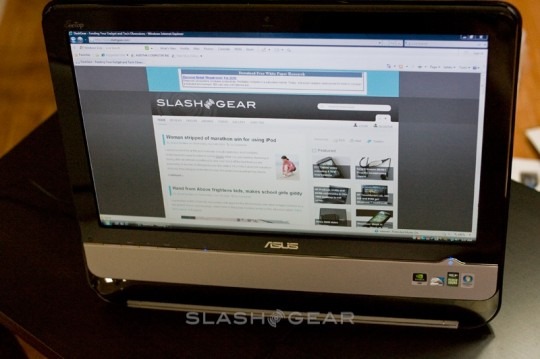 Back when we reviewed the ASUS Eee Top ET1602 late last year, we suggested it could be the epitome of a niche product: netbook hardware squeezed into an unusual desktop case. Now all-in-ones are more common, and so ASUS have returned with an updated design, bigger screen and more media-centric intentions. The ASUS Eee Top ET2002-B024C sticks with Intel's Atom CPU range but now pairs it with NVIDIA's Ion graphics chipset for potentially 1080p High-Definition performance. Check out the full SlashGear review after the cut.
In the case of the ET2002, the Atom CPU is a dual-core 330 rather than the ET1602's N270. It's matched with 2GB of RAM and a 320GB hard-drive, together with a welcome DVD burner mounted on the side. As for the display, that's a 20-inch panel running at 1,600 x 900, and ASUS even fit an HDMI input for using the PC as a display. Other connectivity includes WiFI b/g/n, ethernet, six USB ports, audio in/out and a 3-in-1 memory card reader. OS is Windows Vista Home Premium, though those who pick up the ET2002 in the next week will also get a free upgrade to Windows 7.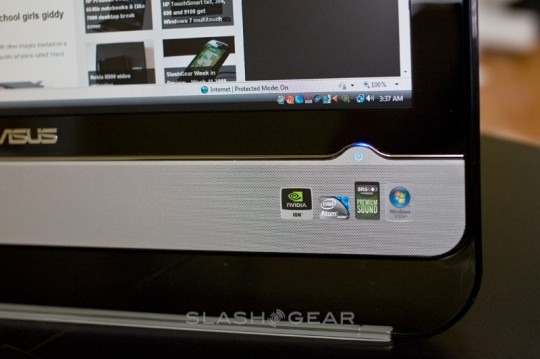 What the ET2002 doesn't have is a touchscreen. ASUS will offer a version which does add a touch-panel – the ET2002T – together with a larger, 22-inch touchscreen version, but the ET2002 we have on our test-bench relies on more traditional keyboard and mouse input. ASUS do supply wireless peripherals, and they're of reasonably quality and color-matched to the main unit; the laser mouse has a separate on/off switch and a scroll wheel, both appreciated.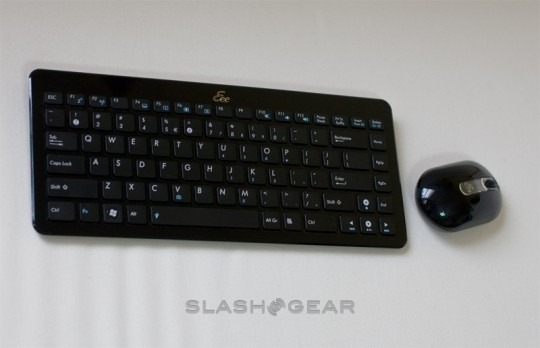 Physically, the ET2002 looks a lot like the ET1602, with a glossy black plastic casing that sits inside a smoked transparent plastic shell. On the back there's a sturdy, spring-loaded desk stand, four of the USB ports, ethernet and the power input, while the right-hand side has the tray-loading optical drive and the left-hand side gets the remainder of the ports. Running along the bottom edge of the LCD are a few control keys, including display brightness/contrast adjustments, power and a Home button that replicates the "Minimize All" shortcut. Beneath them, there's a grey grill hiding the stereo speakers, which didn't exactly blow us away with their audio performance but are good enough for casual radio and music listening, while up above the screen there's a webcam and dual-microphone array.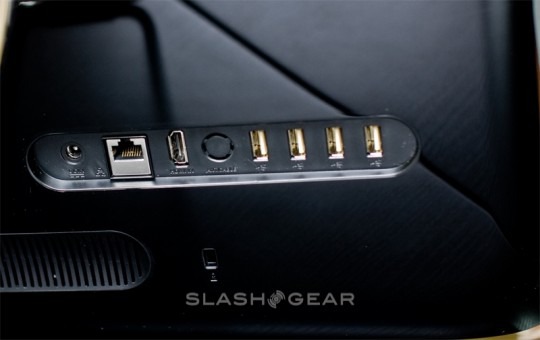 The display itself is bright and crisp, and despite being unable to show Full HD 1920 x 1080 resolution video it did a great job with 720p footage. While lacking a touchscreen, we found that because of the extra screen inches over the ET1602 we sat further back from the newer Eee Top, and thus it made less sense to reach out and try to tap at it.
We ran the usual GeekBench testing to see how the dual-core Atom 330 held up, and as you might expect the ET2002 wasn't much of a fighter. Overall the nettop scored 1226, with memory-related performance holding back CPU performance slightly. In practice, applications load after a slight pause, and attempting to multitask with several browser windows, background media playback and Office open (ASUS preload a 60-day Office 2007 trial) led to some sluggishness.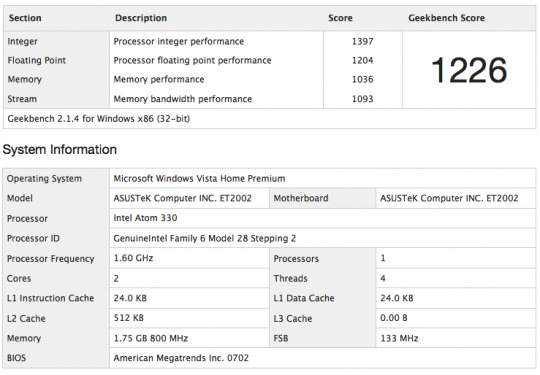 Of course, neither of those situations take advantage of the NVIDIA Ion GPU, which could be seen as the Eee Top's secret media weapon. As we've seen on netbooks and other nettops, the Ion – when paired with compatible applications that take advantage of its GPU grunt – can make a huge difference to video playback, crunching high-definition footage and capable of 1080p resolutions. Of course, the ET2002's resolution means full 1080p display isn't possible, but downloaded 1080p HD files and those loaded from DVD both performed very well. It's also possible to play reasonably graphics-intensive games on the ET2002, though this certainly isn't a replacement for a console or even a mid-range traditional PC.
Where Ion falls short is in situations where software isn't set up to access GPU acceleration. For local content it's usually pretty straightforward to find a workaround – there are a few media apps which will work just fine – but if your HD diet is mainly sated by streaming content then you'll have more of a problem. Flash, at least right now, lacks support for GPU acceleration, and as such scaling up YouTube HQ/HD, Hulu and other online video sites to full-screen pushes the Atom 330 not just to the edge of its abilities but demands even more of it. Dropped frames, jagged edges and general graphical disappointment is the name of the game, sadly.
The good news is that Adobe have promised GPU acceleration support for Flash 10.1, which is set to arrive before the end of 2009. That should make the world of difference, with YouTube HQ/HD offset to the NVIDIA Ion rather than making demands on the processor; until then, though, the ET2002 is a surprising disappointment for streaming video consumption.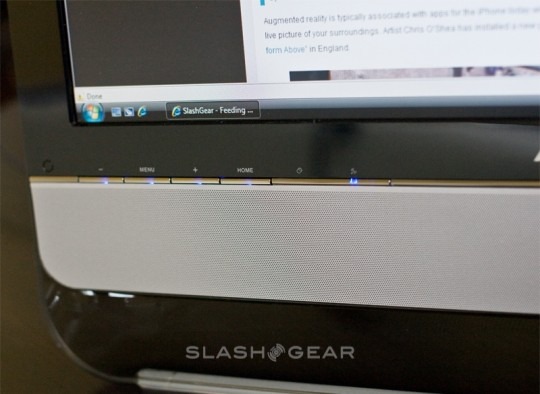 While you lose touchscreen control with the ET2002, it makes for a more convincing second PC than the ET1602 managed. Slot in a USB TV tuner and it could serve as a decent kitchen or bedroom entertainment system, replacing a standalone TV and DVD player, and we're confident that with Windows 7 (which we already know to be gentler to Atom-series processors) and Flash 10.1 the general usability of the nettop will take a step up before the year is out. Considering most PCs feel dated the day after you buy them, that's something to look forward to.
Its $600 MRSP has already been undercut online by twenty bucks or more, and while that's certainly shy of non-Atom all-in-ones, $100 more does get you Dell's Studio One 19. The Dell drops 1-inch on the display but packs a 2.6GHz Pentium dual-core CPU; alternatively, forget the all-in-one requirement and there's plenty of choice at around that price point, usually with mainstream processors rather than low-voltage Atoms.
However, the ASUS Eee Top ET2002-B024C is arguably more attractive than either a separate tower and display, or the Studio One 19 for that matter, and it delivers an impressive blast of local HD video playback with the promise of more to come. As it stands it would do a decent job as a second PC; give Adobe some time to catch up and the ET2002 could even step out of the backroom.