ASUS Eee Top ET2203T with Blu-ray, ET2202T and 3G-enabled Eee PC 1005HGo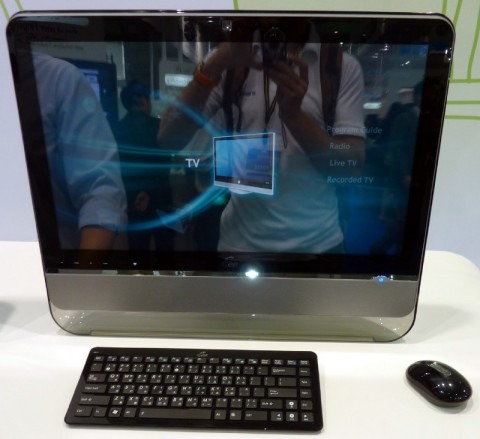 The new ASUS models from Computex keep on coming, and latest to be spotted are a pair of new Eee Top touchscreen all-in-ones and a 3G-enabled version of the Eee PC 1005HA, the 1005HGo.  The two desktops are the Eee Top ET2203T and the Eee Top ET2202T, and while they ostensibly look similar their specifications are surprisingly diverse.
The ET2202T gets a 20-inch 1,600 x 900 display, dual-core Intel Atom 330 processor and 2GB of RAM.  Graphics are courtesy of the NVIDIA Ion 9400M, complete with HDMI output, and there's WiFi draft-n, a DVD burner and 250GB hard-drive.
As for the ET2203T, that steps up to a full Intel Core 2 Duo T6500 processor, with 4GB of RAM, a 320GB hard-drive and a 21.5-inch 1920 x 1080 HD-capable display.  Graphics are courtesy of ATI's Radeon HD4570, and there's a Blu-ray drive, WiFi draft-n and an HDMI input port for using the display with other sources.  It will be priced between $799 and $1,199, final specification depending, while the ET2202T will come in lower at between $599 and $799.
Finally, the ASUS Eee PC 1005HGo adds a 3G HSPA modem to the company's 10.2-inch ultraportable.  No word on full specifications, but we're expecting an Atom N-series processor, 1GB of RAM and user-replaceable battery.