ASUS Eee Top ET2010 multitouch all-in-ones on sale now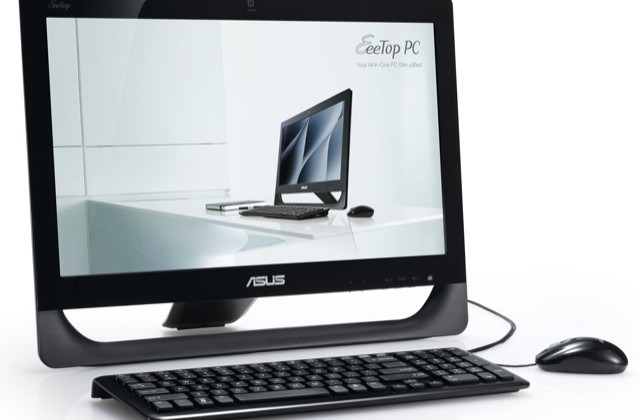 It's been a little over a month since ASUS made their Eee Top ET2010 range official, and the 20-inch multitouch all-in-ones have finally made it to shelves.  Fresh to the UK today, the ET2010 range consists of two main models, the ET2010PNT and ET2010AGT, each of which has two versions.  The PNT units use Intel's Atom D510 CPU and NVIDIA Ion graphics, while the AGT units get AMD's Athlon II X2 250u and ATI Radeon HD 5470/5471 graphics; all have a 500GB hard-drive, 2GB of RAM and a tray-loading DVD burner.
The 1400 x 900 display uses an optical touchscreen technology that supports pinch-zooming, and the whole unit measures 1-inch thick.  Connectivity includes gigabit ethernet, WiFi b/g/n, a multiformat memory card slot, multiple USB 2.0 ports, HDMI input and audio in/out.
The ET2010PNT-BN024E and ET2010AGT-B015E each have two 2W speakers, while the ET2010PNT-B038E and ET2010AGT-B027E have three 2W speakers (we're guessing they add in a subwoofer) together with being wall-mountable.  Pricing is £619.99 ($942) for the ET2010PNT and £629.99 ($957) for the ET2010AGT.  Full specs for all four of the models – together with some more images – in the gallery below.
Press Release:
A Touching Choice in Home Entertainment – ASUS Launch Next Generation Eee Top PC ET2010

ASUS have today announced the UK launch of the Eee Top PC ET2010 series – a superior all-in-one PC which brings everyday computing and outstanding multimedia performance together inside a minimalist and stylish package.

With a super-slim 1" profile, multi-touch 20" screen and impressive multimedia capabilities thanks to the latest processor and graphics technology, the ET2010 is the ideal solution for home users seeking the best of the computer and home entertainment worlds.

The ET2010 is available now from a range of retailers and e-tailers at a price of £619.99 SRP (inc VAT).

Next generation technology for a dazzling multimedia experience:

With the latest processors and graphics card technology, coupled with DirectX 11 for outstanding video playback, the new ET2010 series delivers flawless visuals to users.

"The ASUS Eee Top ET2010 delivers a rich multimedia and entertainment experience thanks to NVIDIA ION graphics*. Whether you're watching HD videos online, tagging and sharing family photos or playing your favourite PC games, this system will do it all in style" said David Ragones, Director of ION and GeForce Product Marketing at NVIDIA.

The ET2010's 20" wide-screen high definition plus (1200 x 600) display, HDMI compatibility and SRS virtual 5.1 surround sound allows users to enjoy mind-blowing multimedia either on the Eee Top or via a larger external television. Gone are the days where the model movie set-up required three or four separate devices – the ET2010 really is an all-in-one solution making it the perfect yet affordable contender as a home entertainment system.

Instant switch between PC and Monitor mode for optimum viewing:

Users can easily switch between PC mode or monitor mode with the ability to multi-task between the two environments – so you can be watching the latest movie in full screen HD quality whilst searching for files in the background – no more fuss trying to manage multiple windows at once.

Multi-touch offers users an easier way to navigate their computer:

The ET2010PNT and ET2010AGT models feature an optical 20" multi-touch screen – far more sensitive than alternative screens available today (such as resistive and capacitive). The result is easier and more accurate input when working with the fingertips.

With the multi-touch screen, users can easily pinch, zoom or rotate images with just two fingers – or, scroll effortlessly through web-pages or text. Such an intuitive style of navigating data means the whole family – even younger children – can take part and enjoy the fun.

1" Slim design blends seamlessly into any home – big or small:

With a curvy 1" profile, the ET2010 is incredibly slim and lightweight compared with traditional desktop PCs. With the ability to wall-mount*, users with even the smallest living room can still enjoy computing in style without negating on precious space.

Designed to be tough – a scratch and damage-resistant option:

The ET2010 series is incredibly hardwearing to give users full peace of mind. The U-Bar can withstand a 30Kg pull, whilst the stand can handle up to 4Kg in push pressure without falling down. The 9H screen is reassuringly hard and scratch-resistant – so no matter how frantic things get in the household, you won't need to worry about the Eee Top.

Tiny carbon footprint for an eco-friendly home:

Accredited by Energy Star 5.0, the ET2010 bears testament that superior multimedia performance does not have to mean a compromise on being green. With a power consumption almost as low as an energy-saving light bulb (19.96Wh) it helps save the environment as well as the pennies. The packaging is made from 100% recycled materials, and there are no more paper-heavy manuals included – a simple DVD is provided instead.

Eee Docking platform delivers content straight from the desktop:

The Eee Top PC comes with the exclusive ASUS Eee Docking platform – a one-stop solution offering users a range of useful services and content to enrich their day to day computing life. The Eee Docking platform includes Eee Amuse, Eee Sharing, Eee Xperience and Eee Tools.

What's more, the ET2010 allows users to connect to ASUS cloud computing services such as:

* ASUS @Vibe – a portal to a variety of content including music, games, magazines, e-books, e-learning materials and live TV.

* ASUS WebStorage – users can access their files anytime, from anywhere. A simple drag and drop interface facilitates sharing with friends and family and backing-up data for safekeeping. Users have a 1-year free trial – visit www.asuswebstorage.com for more details.