ASUS Eee Top ET2002T and ET2203T getting October 22nd release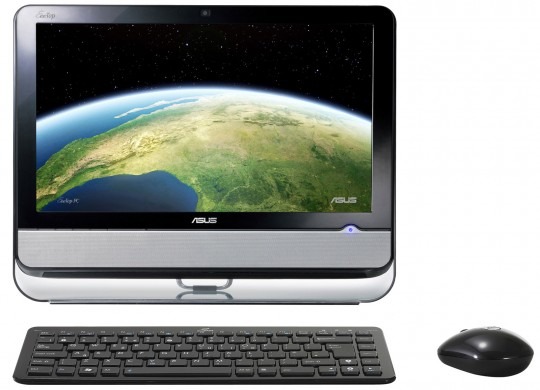 ASUS's Eee Top ET2002T and ET2203T all-in-one nettops may have been confirmed for the US since August, but it's taken the company a little while longer to discuss plants for them in the UK.  Now seems as good a time as any to revisit what you get from either a 20- or 21.6-inch nettop, based on Intel's Atom dual-core 330 in the case of the smaller machine, or a choice of Intel Core 2 Duo chips in the larger.
The ET2002T has a touchscreen display, NVIDIA Ion graphics and a DVD burner, together with a 320GB hard-drive and up to 4GB of RAM (2GB standard).  Meanwhile the ET2203T gets a choice of DVD burner or slot-loading Blu-ray drive, either 320GB or 500GB of storage, ATI Radeon HD 4570 graphics and a touchscreen.
Each has WiFi b/g/n and gigabit ethernet, a webcam, and the larger has ASUS' Total Media Center app too.  Both models will drop on October 22nd, along with Windows 7, with the Eee Top ET2002T priced from £559 ($891) and the Eee Top ET2203T from £819 ($1,305).
Press Release:
Touch Perfection Anywhere with the ASUS Eee Top ET2002/2203

Delivering the ultimate all-in-one multimedia touch-screen experience, the new ASUS Eee Top is space saving, user friendly, portable and HD home entertainment ready. The slim, elegant fully-featured desktop packs function neatly into the touch-screen itself.

The cool, chic original Eee Top proved a huge hit with the stylish home-owners and interior designers not only for it's range of features and flexible connectivity but also for it's contemporary good looks.

The new slender Eee Top ET2002/ET2203 series provide fingertip access to a wealth of technology and applications all intuitively designed to make entertainment and productivity more fun, simple and easy to use. Frameless high definition displays and dual Hi-Fi speakers combine to create an incredible sense of realism and clarity whether enjoying a Blu-ray** disc or the latest videogame.

Available from 22nd October 2009, in either 20" or 21.6" display sizes, they are priced at £559 inc. VAT (ET2002) and £819 inc. VAT (ET2203).

Key Features and Benefits:

* 20"/21.6" frameless HD display for stunning pictures

* Touch-screen* interface for intuitive fingertip control

* Dual Hi-Fi speakers with SRS Surround Sound

* Blu-ray** and 1080p media support for enjoying high definition movies

* Connections support a range of external devices for screen playback such as game consoles to keep the kids busy

* Bluetooth and WiFi for easy connection anywhere in the home

* Total Media Center (ET2203) makes it effortless to browse and view multimedia collections

* Eee Memo for fun sticky-note sharing amongst the whole family

* Eee Cam Real-time Response Webcam Technology (30 frames/sec) for high quality video conferencing, fun customisation and instant messenger support

* Eee Bar for a one-stop access to favourite applications

* Slim design and stand for seamless blend into the home

* Discrete carry handle for added portability

* Windows 7 Premium – cutting edge for touch-screen support

True-to-Life Audio Visual technology for the Ultimate Home Viewing Experience:

The Eee Top ET2002/ET2203 series use the latest graphics technologies to deliver mind-blowing home entertainment. With a choice of 20" or 21.6" sizes, the frameless touch-screen displays deliver high definition content in a widescreen (16:9) aspect for captivatingly clear images.

The real-life experience doesn't end with the picture either – Dual Hi-Fi speakers with SRS Surround Sound™ provide crystal clear sounds for a truly cinematic feel.

High definition playback to a range of devices for no-compromise entertainment:

With built in Blu-ray** for playback of high definition movies and HMDI-in / SPDIF output for connections to a range of external devices, the Eee Top ET2002/ET2203 make it a breeze for the whole family to stay entertained and productive – whether it's Dad working on a presentation on the computer, or the kids enjoying the latest racing car game.

Intuitive applications make computing simple, fun and easy:

The Eee Top ET2002/ET2203 comes with a range of technologies and applications designed to complement the touch-screen interface and make computing intuitive, fun and easy to use:

* The Total Media Center (ET2203 only) offers users a one-stop touch-enabled interface with which to browse, view and organise their multimedia collections – no more hunting around complicated computer directories or dusty shelves for that favourite movie!

* Eee Memo provides a fingertip controlled handwritten 'sticky note' interface for communicating with the rest of the family, whether it's a shopping list or reminder to walk the dog.

* Eee Cam makes fun use of the integrated superior quality web camera, which delivers images at 30 frames-per-second and boasts enhanced low-light sensitivity. Users can add frames, doodles and special effects to their picture to send customised video messages by email or can even create custom emoticons for use on popular instant messenger applications.

* Eee Bar brings everything together into a desktop toolbar for speedy access to commonly used programs or for changing settings in a touch.

Perfectly Seamless and Connected anywhere in the home:

With a frameless screen and delicate yet robust stand on the rear bezel, the Eee Top ET2002/ET2203 series is classy, slim and will fit seamlessly into any home, big or small, whilst the thoughtful and discrete carry-handle makes it effortless to carry from room to room.

Integrated connectivity features mean the Eee Top ET2002/ET2203 can use Internet connection using WiFi or share files with Bluetooth from any room in the house, whether it's upstairs in the bedroom or downstairs whilst cooking in the kitchen.