ASUS Eee Top ET2002T and ET2203T Ion all-in-ones confirmed for US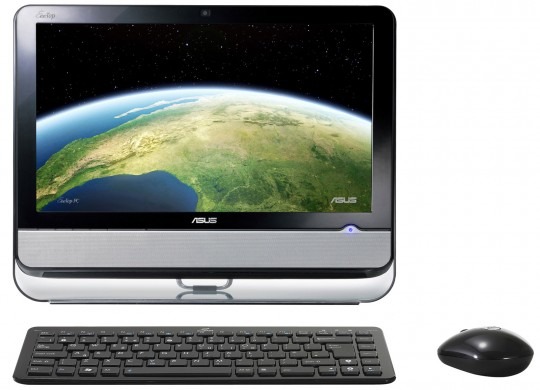 The ASUS Eee Top ET2002T all-in-one – which slots NVIDIA's Ion GPU into the nettop – has made its official appearance on the company's US site, together with getting an official announcement along with its 22-inch ET2203T sibling..  First spotted on a French retailer's site last week, the ET2002T packs Intel's dual-core Atom 330 processor together with a 20-inch 16:9 aspect touchscreen display and DVD burner.
There's also up to 4GB of RAM, a choice of 250 or 320GB 5,400rpm hard-drives and gigabit ethernet, together with WiFi b/g/n, a webcam, six USB 2.0 ports and a multi-format memory card reader.  ASUS have also squeezed in an HDMI input, which allows the ET2002T to be used as a standalone display; that makes it potentially ideal for a kid's bedroom, where they could not only do their homework on it but hook up their games console.
Still unclear is when the Windows 7 PC will begin shipping in the US: there's no official press release as yet, nor pricing for the US market, though the French model came in at €598 ($845).  Also on the cards is an ET2002 version which lacks the touchscreen layer, and a more powerful ET2203T which will apparently pack various Core 2 Duo processors, AMD's ATI Radeon HD 4570 GPU, optional Blu-ray and of course a larger 22-inch touchscreen display.