ASUS Eee Top ET1602 and ET1603 touchscreen PC official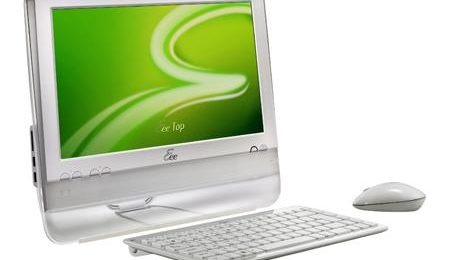 ASUS are holding out strong hopes for their Eee Top desktop PC, envisaging the 15.6-inch touchscreen device to be a flagship product for 2009.  Although its been up for preorder for some time now, ASUS have only just got around to releasing product details.  The Eee Top ET1602 and Eee Top ET1603 are both pretty much the same basic machine, powered by a 1.6GHz Intel Atom N270 processor with 1GB of RAM, a 160GB 5,400rpm hard-drive and WiFi 'n'; the only difference is in graphics, with the ET1603 getting an  ATI Mobility Radeon HD3450 over the ET1602's integrated Intel video chipset.
Both have 1.3-megapixel cameras, a multi-format memory card reader, gigabit ethernet, dual USB 2.0 ports, audio in/out and stereo speakers.  There's also a carry-handle; for v.2 of the Eee Top, ASUS plan on outfitting it with wireless keyboard and mouse together with a battery for maximum round-the-house portability.
OS is Windows XP Home, with ASUS' own Easy Mode GUI overlaid; that makes the touchscreen interface straightforward and offers simple shortcuts to common tasks.  See a brief video demo here.  They're also quiet machines, operating at as little as 26dB (which ASUS compare to "unoccupied broadcast studios" at 20sB). 
No official word on release date or pricing, as yet, but UK retailer Play.com have the ET1602 for pre-order at £449.99 with an MRSP of £499.99 ($735/$816) with an estimated release date of November 20th.  It looks to be available in both black and white.