ASUS Eee PC T101H gets Atom N450, coming Jan 2010?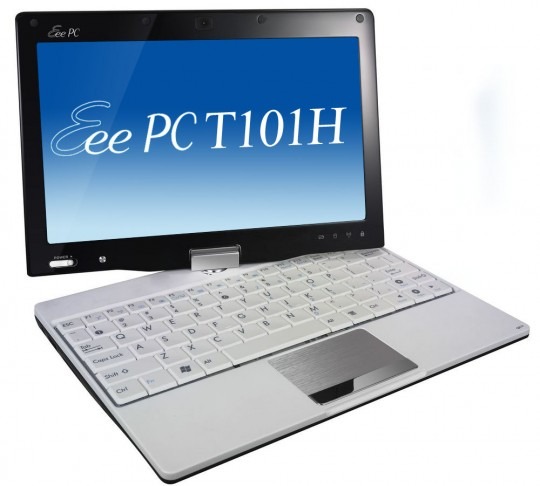 The wire has been pretty barren when it comes to word of ASUS' upcoming 10.2-inch convertible touchscreen netbook, the Eee PC T101H.  Last we heard, ASUS had pushed its release back until September "at the earliest" and were watching sales performance of the T91 before finally green-lighting the project; now, according to NetbookNews' sources, the T101H will make its official debut at CES 2010, complete with Intel's next-gen Atom N450 1.66GHz processor.
According to those sources, the Eee PC T101H will have a 10.2-inch resistive touchscreen running at 1024 x 600, 1GB of RAM (2GB optional), a 16GB SSD, WiFi b/g/n, GPS, 3G UMTS and DVB-T digital TV (we're thinking some of those will likely be options).  There'll also be a motion sensor, likely used for screen rotation, plus a battery good for up to 8hrs runtime.
The whole thing is said to be around 1.3kg in weight, and will run Windows 7.  As for pricing, that's tipped at between €650 and €700 ($968 – $1,042), which makes it a particularly expensive netbook when you consider many manufacturers are now looking to put multitouch-capable capacitive displays in their newest Windows 7 ultraportable notebooks.