ASUS Eee PC 900AX resurrects 8.9-inch netbooks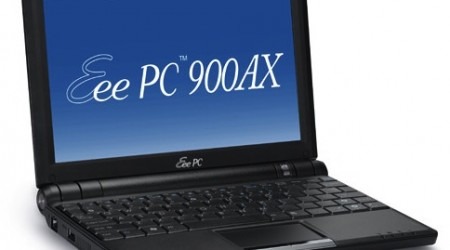 You could be forgiven for assuming the 8.9-inch netbook segment had died; while we've seen a few convertible tablet netbooks using sub-9-inch panels, predominantly to shave off a few extra millimetres from a machine intended to be carried around, regular netbooks have gravitated to 10.1-inch 1024 x 600 panels.  So, quite a surprise to see the new ASUS Eee PC 900AX, an 8.9-inch relaunch... with a few caveats.
Biggest of those caveats is having to fight the nagging sensation that ASUS are charging you for a brand new netbook when all you're getting is a new badge.  Under the hood is Intel's Atom N270 processor, the 1.6GHz chip that basically kick-started the netbook segment a couple of years back, and here paired with the same old 1GB of RAM and 160GB hard-drive.
In fact everything about the Eee PC 900AX screams "classic" (and that's being kind), with its 4-cell battery (good, they reckon, for just 4hrs use), two USB 2.0 ports, VGA, audio in/out and 8.9-inch 1024 x 600 display.  ASUS have even left it with WiFi b/g rather than upgrading to 802.11n, and it runs Windows XP rather than Windows 7 Starter Edition.  No word on pricing or launch date, but we're hoping ASUS see sense and give the 900AX a suitably budget tag.
[via NotebookItalia]