ASUS Eee PC 900 with 30GB HDD emerges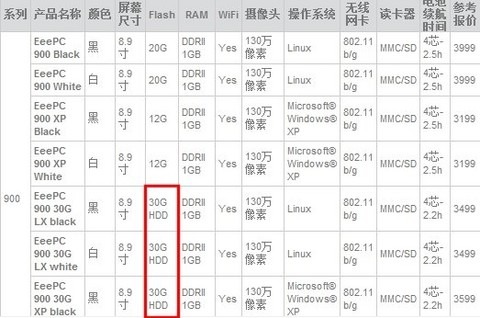 It's hard to think of a user left out in the cold from ASUS' vast array of Eee PC netbooks, but the company's Chinese arm seems to have tipped a new version.  Based on the existing Eee PC 900 design, it swaps out the usual 12GB or 20GB of SSD storage and replaces it with a 30GB hard-drive. 
Three versions are listed, two running Linux and available in black or white, and one running Windows XP Home and solely available in black.  The price for the Linux machine is 3499 RMB , while the XP version is 100 RMB more.
It's uncertain why ASUS have chosen to outfit the older 900 model with the new drive, rather than the Atom-based 901 more recently announced.  There's also no word from the company as to whether this configuration will be available outside of Asia.
[via jkkmobile]