ASUS Eee PC 1101HGo With Added 3G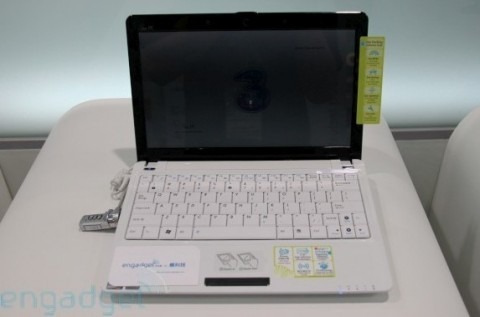 ASUS haven't only brought their 11.6-inch Eee PC 1101H to Computex 2009, but a sibling of the netbook with integrated mobile broadband.  The ASUS Eee PC 1101HGo throws 3G into the mixture, keeping the 1101H's Atom Z520 or Z530 processor but slotting in a slightly larger battery.
That new battery, according to ASUS' product manager, is larger so as to offset the power required by the 3G WWAN module.  No telling whether that allows the 1101HGo to achieve the same sort of runtimes as were promised for the non-3G version – between 9.5hrs and 11hrs, somewhat unbelievably – but we can hope.
Otherwise it's the same 1,366 x 768 LED-backlit display, 1GB of RAM and 160GB hard-drive, together with WiFi, Bluetooth 2.1+EDR and a 1.3-megapixel webcam.  No sign of price or availability; we may have to wait until after Computex for that.