ASUS Eee PC 1008HA stars in demo video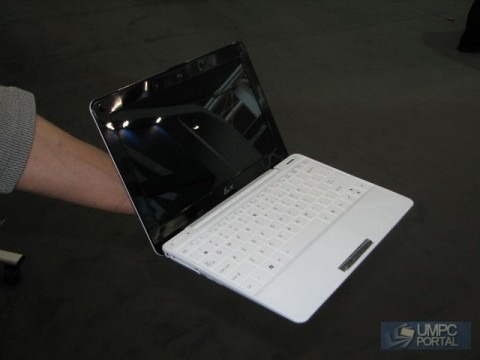 Somehow no matter how many cores other laptops may have, the ASUS Eee PC 1008HA stands out as perhaps the central star of CeBIT 2009.  The ultraskinny laptop, like the S101 before it, almost defies inclusion in ASUS' "budget" netbook range.  After the cut, full specifications of the 1008HA and a live demo video.
Complete specs for the Eee PC 1008HA are a 1.66GHz Intel Atom N280 processor, 1GB of DDR2 memory, a 160GB hard-drive (and 10GB online Eee Storage) and 10-inch LED-backlit display.  Connectivity includes 10/100 ethernet, WiFi b/g/n and Bluetooth, together with a Mini VGA port, two USB 2.0 ports, audio in/out and a multiformat memory card reader.  There's also a 1.3-megapixel webcam.
Of course, the hardware is perhaps secondary to the ASUS Eee PC 1008HA's dimensions, and at just 25.7mm thick and 1.1kg the 1008HA really is portable.  jkkmobile shot the following video at CeBIT; the images in the gallery are courtesy of UMPC Portal.
]