Acer Aspire 8930G: Quad-Core CPU, Blu-ray & 1080p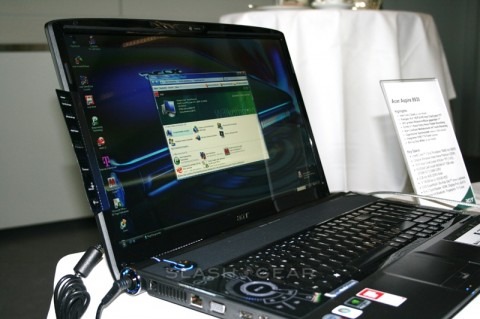 At their CeBIT press conference today, Acer unveiled the Aspire 8930G, the first notebook to use Intel's new Core 2 Quad Mobile Processor.  The Acer Aspire 8930G has an 18.4-inch 1920 x 1080 Full-HD 220-nit display, optional DVB-T digital TV tuner, up to 4GB of DDR3 memory and up to two 320GB hard-drives.
Graphics are courtesy of NVIDIA, with the highest spec being the NVIDIA GeForce 9700M GT with 512MB dedicated GDDR3 VRAM.  Ports include HDMI (supporting HDCP), eSATA, S/PDIF, four USB 2.0, a 6-in-1 card reader, VGA and gigabit ethernet.  There's also WiFi a/b/g/n, Bluetooth 2.0+EDR and an integrated webcam.
Acer have also slotted in a Blu-ray burner and five speakers plus a subwoofer for surround sound.   To the side of the keyboard there's a touch-sensitive control panel for media controls and shortcuts.  No word on pricing, but don't expect this media monster to come cheap.
Press Release:
Acer presents the Aspire 8930G powered by the first quad-core mobile processor

Hannover, CeBIT 2009 – Acer, the third largest vendor in the global PC market (source: Gartner data, FY 2008), today presented the new Aspire 8930G equipped with the latest Intel® Core™2 Quad Mobile Processor, Intel's first mobile quad-core processor providing all the power needed to speed through demanding multimedia applications.

Building on the aesthetic excellence of Acer's Gemstone Blue design, the new Aspire 8930G showcases the unique style and superior functionality of a cutting-edge multimedia system. Exclusive design, innovative textures and materials meet the latest audio technologies and distinctive form factors: the result is a notebook series designed to deliver a high-quality and high-definition entertainment experience that engages all the senses.

Sophisticated style

Dynamic and sophisticated, the Gemstone Blue design reveals its true identity through outstanding features such as the multi-layered, shimmering 3D finish, the contrasting textures, a chic colour scheme, and lighting effects. Exuding true elegance, the starlit backlight shines beneath the floating Acer logo, focal point of the iridescent midnight blue layer. The CineDash media console, to the left of the keyboard, flashes to life with a blue light when the notebook is turned on and offers intuitive controls that bring action and excitement to your fingertips. The intricate texture of the NeoWave palm rest provides a comfortable area for your hands while underlining exquisite craftsmanship and technical prowess.

Blazing performance

Equipped with cutting-edge Intel® Centrino® 2 processor technology, the Aspire 8930G features the latest Intel® Core™2 Quad Mobile Processor the first mobile processor to offer four separate and powerful processing cores for an unmatched multi-threading performance.

Thanks to the Mobile Intel® PM45 Express Chipset and built-in Wi-Fi® functionalities, the Aspire 8930G offers unprecedented mobile wireless broadband coverage and performance. The integrated Acer Video Conference solution makes for highly mobile and simple communication.

Depending on the configuration, the Aspire 8930 comes with a choice of the latest NVIDIA GeForce graphics for the best gaming experience.

With up to 4GB of dual-channel DDR3 memory the new notebook can easily handle all the demands of multitasking and graphic-intensive applications.

One or two HDDs with up to 1 TeraByte (2x500GB) meet the needs of multimedia enthusiasts. As for the optical drive, the Aspire 8930G lets you choose between the excellent Blu-ray Disc™ writer, Blu-ray Disc™ and a DVD-Super Multi double-layer drive. In addition, for easy and speedy data transfer, the series features a handy 6-in-1 card reader that supports the most common card formats.

Rich high-definition vision

Designed to offer a total high-definition entertainment experience with enthralling audio and riveting video, the new notebook integrates an 18.4" CineCrystal™ panels with full HD 1920x1080 pixel resolution and native 16:9 aspect ratio allowing users to enjoy high definition TV and movies. To ensure an even richer experience the Aspire 8930G integrates a set of image enhancement technologies, such as Wide Color Gamut Plus (WCG+), Acer ClearVision and Acer CinemaVision that help deliver more attractive natural colours and sharper images with minimum distortion through intense colour saturation and a superior contrast ratio, while allowing more depth in darker scenes. The 8ms high definition response time reduces ghosting in fast motion gaming and seamlessly displays movies' quickest action scenes.

Thanks to the optional TV-tuner the new notebook also allows you to enjoy high-definition broadcasts.

Powerful sound system

The new Aspire 8930G notebooks host second-generation Dolby® Home-Theater technology that together with powerful audio technologies – CineSurround, Tuba CineBass booster, and True5.1 output – make the most of high-definition acoustic sources and transport you to the heart of the action.

Featuring built-in multi-speakers, True 5.1 surround sound and the specially crafted Tuba CineBass booster, with more than 10W capacity, the new notebook is the perfect choice for Full HD movies and gaming.

The Aspire 8930 comes preinstalled with Microsoft Windows Vista® Ultimate, Vista® Home Premium or Windows Vista® Home Basic. Additional preinstalled software includes: Acer Empowering Technology (Acer eAudio, ePower, eDataSecurity, eRecovery, eSettings Management); Acer Arcade™ Deluxe (featuring Cinema, Album, Music, Acer HomeMedia); Acer InstantOn Arcade; Acer Bio-Protection; Acer Crystal Eye; Acer GridVista™; Acer Launch Manager; Acer GameZone; Acer Video Conference Manager featuring Video Quality Enhancement (VQE); Adobe® Reader®; CyberLink® PowerDirector® trial version; McAfee® Internet Security Suite; NTI Media Maker™; Microsoft® Works 8.5 with Office Home and Student 2007 Trial.