ASUS Eee PC 1008HA "Shell" pricing announced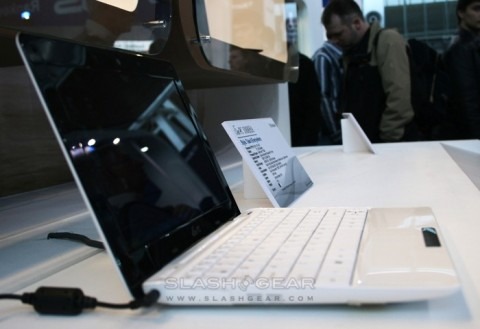 UK pricing for the ASUS Eee PC 1008HA has been announced, with the ultracompact netbook believed to come in at £359.  The netbook – which measures one-inch thick and uses Intel's Atom N280 processor, together with a 10-inch LED backlit display – is expected to arrive in the UK sometime during April.
£359 (including VAT) works out to roughly $511 in the US, though ASUS has not yet confirmed pricing there nor whether the Eee PC "Shell" will even go on sale.  The 1008HA had its unveiling at CeBIT earlier this month, and will use a 160GB hard-drive, 1GB of RAM and both WiFi and Bluetooth.
What's so-far unknown is how much ASUS will charge for the 3.5G UMTS option.  With 5hrs estimated battery life, the 1.1kg Eee PC 1008HA is shaping up to be one of the most popular ASUS netbooks to date.
[via Electricpig]