ASUS Eee PC 1002HA gets reviewed: stylish but at cost of battery life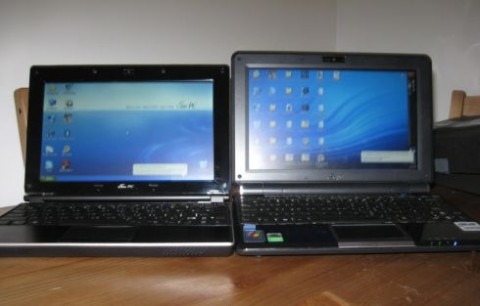 ASUS' Eee PC 1002HA promised an interesting blend of S101 style and somewhat more wallet-friendly pricing, with your $499 getting you brushed aluminum, sub-2.6lb weight and less than 1-inch thickness.  Underneath all that, though, there's the usual 1.6GHz Intel Atom N270 processor and 1GB of RAM, raising the question of whether you're still just throwing money at design.  Liliputing have been finding out.
There's little different in terms of performance from the dozens of other netbooks available, and with an XP boot time of 40 seconds (and shutdown time of 18 seconds) the 1002HA does fit the bill for occasional usage.  Reviewer Brad found the speakers were quieter than the 1002HA's 1000H predecessor, but the microphone is more sensitive and of course the whole thing is 11oz less.
The biggest drawback to the extra mobility is the loss of battery life.  ASUS have given the Eee PC 1002HA a 4,200mAh battery that finishes flush with the bottom of the netbook; that lower capacity translates to around 3.5hrs of runtime from a full-charge, down from the 1000.  This is definitely a netbook you pick for the looks and the size, rather than more practical concerns.
ASUS Eee PC 1002HA Unboxing Video: