ASUS Eee PC 1000HE Touchscreen Video Tutorial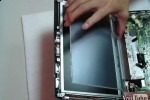 Still no sign of the new color options for the ASUS Eee PC 1000HE that were leaked late last month, but if you want a somewhat more usable upgrade option for your netbook then how about a touchscreen?  ASUS are yet to launch their T91 touchscreen convertible netbook, so until then dust off your screwdrivers, thoroughly ground yourself and check out this three-part video tutorial to fitting a touch-panel to the 1000HE.
Tutorial videos after the cut
The tutorial has been put together using a Hoda Technology touchscreen kit, and as we've seen in similar guides it involves opening the netbook bezel, slotting in the resistive touch panel and connecting it up to a USB header inside.  The typical connection is made using the webcam USB socket, with a second USB header for the camera to reconnect to.
You can find the Hoda Touchscreen kit on eBay for around $99 (with varying shipping costs; this auction would set you back $124 altogether) giving you everything from the touch panel, USB harnesses and all cabling, and even the stylus.  You'll also get three more internal USB ports for future hacks.
[via NetBookNews]