ASUS Eee PC 1000HE Atom N280 netbook up for preorder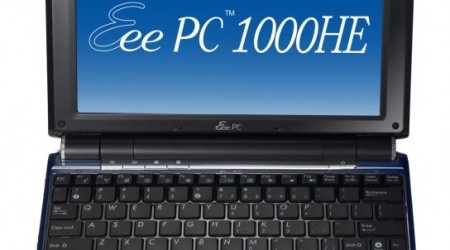 ASUS have announced their latest netbook, the Eee PC 1000HE complete with Intel's Atom N280 processor.  As well as the 1.66GHz CPU and HD-capable Intel GD40 chipset, the 1000HE has a 10-inch LED-backlit display, 160GB hard-drive and WiFi b/g/n.  ASUS are suggesting up to 9.5hrs of runtime from the high-density battery and the company's own Super Hybrid Engine technology.
There's also a change in keyboard, too, with the Eee PC 1000HE having a new "chiclet" style which apparently allows for quicker and more comfortable typing.  ASUS also include 10GB of Eee Online storage space, and the 1000HE has integrated Bluetooth 2.0 and a webcam as well. 
You can currently preorder the ASUS Eee PC 1000HE, in both Fine Ebony Black and Blue, through the official ASUS Eee PC Group on Facebook or this page, where it has a introductory MSRP of $399. For a limited time, there's also an additional $25 instant discount; ASUS haven't confirmed what the eventual price for the netbook will be.
Press Release:
ASUS Announces the Upgraded Eee PC 1000HE, Available Now for Pre-Order

– First netbook to feature Intel Atom N280 processor, the new Eee PC offers more power, 9.5 hours of battery life, and comfort and style –

FREMONT, CALIFORNIA (February 2, 2009)-ASUS, the innovator who revolutionized the mobile computing landscape with the original Eee PC netbook, today announces its most powerful and long-lasting Eee PC yet – the 1000HE. Available for pre-order from selected online E-tailers, the Eee PC 1000HE is the pinnacle of netbook computing, offering more power, longer battery life, increased comfort and legendary ASUS quality.

World's First Atom N280 Netbook

With the extra power of the Intel Atom N280 processor, users will be able to boot faster, get work done quicker, and enjoy higher performance compared to other Atom N270-powered netbooks. The Eee PC 1000HE also features ASUS' exclusive Super Hybrid Engine (SHE) technology, which can boost CPU speed for extra power or lower it to preserve battery life, all at the touch of a button.

Higher Density battery, New Keyboard

The Eee PC 1000HE is equipped with a high-density battery that, when combined with the Super Hybrid Engine, allows for an industry-leading 9.5 hours of battery life*. Using the Eee PC all-day has never been easier thanks to its bright 10" LED backlit display and new "chiclet" keyboard that allows for faster and more comfortable typing.

Wireless Internet and File Storage on-the-go

The Eee PC 1000HE comes with WiFi 802.11b/g/n network connectivity for ultimate wireless accessibility and mobility. Bluetooth v2.0 is also included for flexibility and convenience with any Bluetooth devices.

Additionally, the Eee PC 1000HE is outfitted with 170GB of Hybrid Storage – 160GB of internal hard disk drive and 10GB of file-encrypted Eee Online Storage. Users can store, share and access documents and multimedia easily on the move.

Pricing and Availability

The ASUS Eee PC 1000HE is available immediately for pre-order through the official ASUS Eee PC Group on Facebook at the following link: http://www.facebook.com/group.php?gid=6297967631. The introductory MSRP of the Eee PC 1000HE is $399 USD. For a limited time, an additional $25 instant discount will apply to the pre-orders. The Eee PC 1000HE will be available in both Fine Ebony Black and Blue in North America.

* Estimated maximum battery life under Windows XP is measured with BatteryMark 4.0.1 (in Eee PC Super Hybrid Engine Power-Saving mode, 40% LCD brightness, Wi-Fi off, BT off, and camera disabled). Actual battery life may vary based on product settings, usage patterns and environmental conditions.

About ASUS

ASUS is a leading company in the new digital era. With a global staff of more than ten thousand and a world-class R&D design team, the company's revenue for 2008 was 8.1 billion U.S. dollars. ASUS ranks among the top 10 IT companies in BusinessWeek's "InfoTech 100", and has been on the listing for 11 consecutive years. ASUS was also selected by the Wall Street Journal Asia as No.1 in quality and service.