ASUS Eee Pad Transformer To Be In Stock June 2nd On Amazon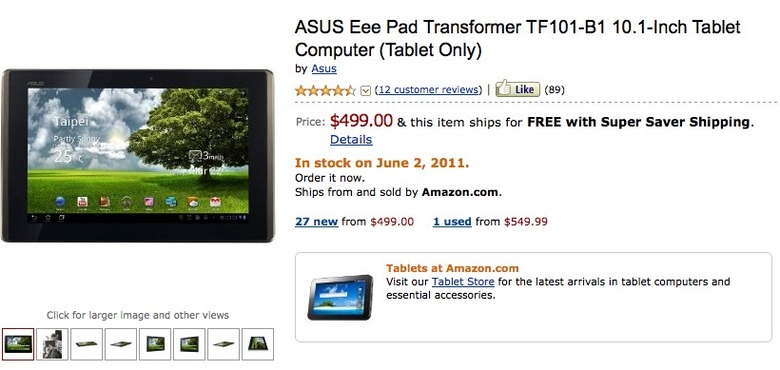 We may receive a commission on purchases made from links.
It was certainly a big day for ASUS, with the unveiling of the Padfone, but let's not forget about the ASUS Eee Pad Transformer. The Transformer tablet has been incredibly popular, but getting a hold of it was rather difficult as the device sold out quickly. But if you've been searching for one, then the good news is that Amazon is now showing it to be in stock by June 2nd.
Amazon is offering the ASUS Eee Pad Transformer 32GB WiFi-only version for $499. The tablet is also being shipped directly from Amazon's own fulfillment center, meaning you can get free super saver shipping. An earlier look at the listing showed it as being available for Amazon Prime, but as of this writing, that option is no longer available. Also, the keyboard dock is only available through third-party sellers for around $280.
The ASUS Eee Pad Transformer tablet with its keyboard dock, creates a hybrid between tablet and notebook, while the ASUS Padfone hopes to join phone and tablet. We won't know how successful the latter one will be, but the Transformer has far surpassed expectations for the Taiwanese company. If the Padfone is well received, we may very well see a super hybrid of notebook, tablet, and phone much like the HTC Tube concept sometime in the near future.
You can check out our full review for the ASUS Eee Pad Transformer, and check out the Amazon page for it here.