ASUS Eee Pad Slider Review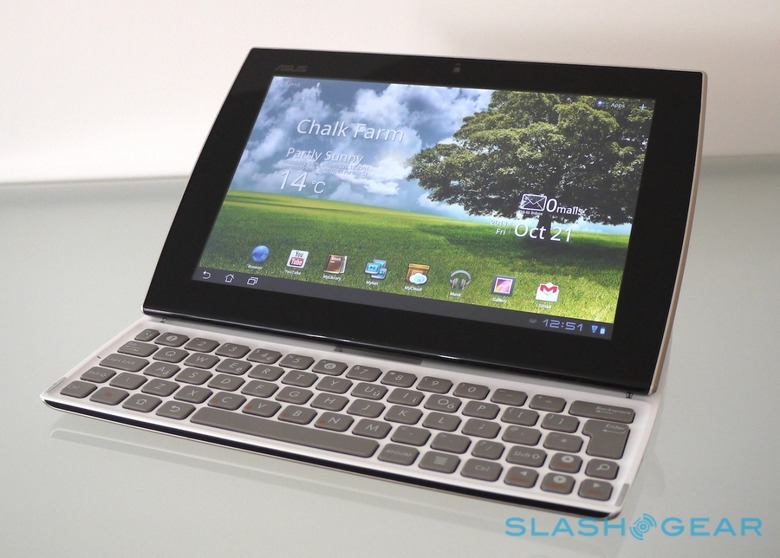 Tablets took ASUS by surprise this year. The company revealed its two models, the Eee Pad Transformer and Eee Pad Slider, back at CES 2011 in January, and went on to see the Transformer become a sell-out success. The Slider SL101, meanwhile, failed to appear on schedule, and it's only now – ten months after we saw it first – that units are finally reaching store shelves. Has time been kind, or is this Android tablet just a netbook with pretensions? Check out the full SlashGear review after the cut.
Hardware
Accommodating a sliding mechanism means the Eee Pad Slider isn't going to be as compact as some slate-only tablets we've seen. The ASUS measures in at 10.7 x 7.1 x 0.7 inches and 2.1 pounds (when closed), making it larger and heavier than most rivals. In contrast, the Eee Pad Transformer is thinner and lighter when slate-only, but bigger than the Eee Pad Slider when the battery-toting keyboard dock is attached. Of course, in doing so you also get a boost to runtime.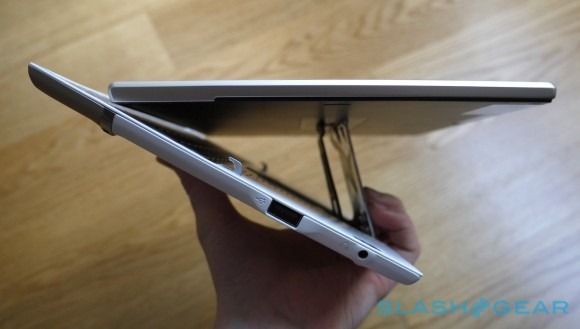 In comparison to a more traditional slate, however, like the Samsung Galaxy Tab 10.1, the ASUS is positively porky. Samsung's 9.7 x 6.7 x 0.3 inch tablet is less than half as thick and almost half the weight, and far easier to hold single-handed. ASUS' plastic chassis is sturdy and the matte finish does a good job of disguising fingerprints, though the same can't be said for the gloss finish touchscreen and sizable black bezel. Still, the 10.1-inch, 1280 x 800 IPS LCD panel is bright and color-rich, as with the Transformer, and has great viewing angles. We did prefer the Galaxy Tab 10.1 screen, however, for its saturation.
ASUS Eee Pad Slider demo:
[vms f16bbdb6557d3d89d1c5]
Inside, things are par for the course for a Honeycomb tablet. NVIDIA's Tegra 2 1GHz dual-core chipset takes center stage, paired with 1GB of RAM, 16GB of flash storage (with 32GB an option), WiFi b/g/n, Bluetooth 2.1+EDR and GPS. There's no 3G in our review unit, though ASUS will offer it as an option. Up front is a 1.3-megapixel camera, while a 5-megapixel camera is on the back.
ASUS has used the extra heft to accommodate a fair array of ports, which are a welcome addition. There's a full-sized USB port for external peripherals, such as a mouse or hard-drive, along with a microSD card slot, plus a mini-HDMI port and headphones socket. The standard volume rocker and power button are joined by a dedicated reset button, recessed so as not to be triggered accidentally. Finally, there's a proprietary docking connector – on the top edge, not the bottom, since that would put it under your wrist when the keyboard is extended – for use with the bundled USB charger or when hooking the Eee Pad up to a computer.
Keyboard
Reach behind the Eee Pad's webcam and tuck your finger into the dimple; pull up, and the whole screen section pivots back and up, slotting into place at a 45-degree angle. A chrome-finish slab of metal keeps the touchscreen elevated, and the whole thing feels sturdier than you might expect. Unfortunately, there's no way to adjust the angle – if you want the keyboard, you're stuck with 45-degrees.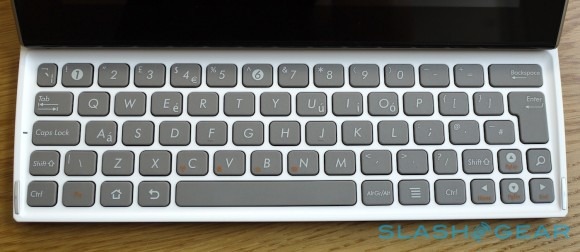 In use, the four grippy rubber feet on the base keep things from sliding around, and the experience is wobble-free. Sadly the keys themselves underwhelm: the buttons are plasticky and cheap feeling, the key bed wobbles and the whole 'board lacks travel and is spongy.
It's a shame, because the keys on the Eee Pad Transformer's keyboard proved surprisingly usable, certainly in line with a netbook. The Slider, in contrast, is definitely sub-netbook in quality, and the limited space for the 'board – broad, but not particularly deep – means typing can't reach the sort of speeds you'd expect for a physical layout.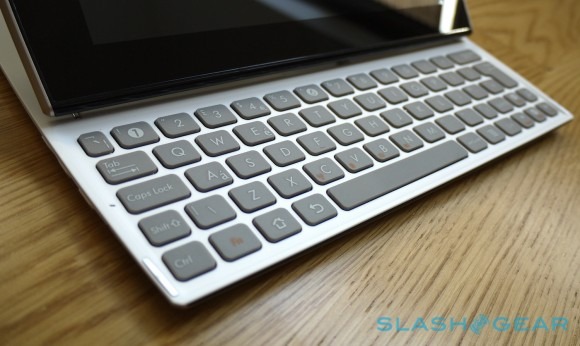 Overall, then, it's better than an on-screen keyboard, but falls short of ASUS' own Transformer. The absence of a trackpad was also notable, plus there's no palm-rest. ASUS has added dedicated Home and Search keys, and there are shortcuts for WiFi, Bluetooth and screen brightness, but no media control shortcuts. You can use cut/copy/paste shortcuts, but the shift+arrow combination to highlight doesn't work in the preloaded Polaris Office suite (that supports documents, spreadsheets and presentations).
Software and Performance
Android 3.2 Honeycomb is, by now, a familiar face. Google's tablet-centric OS has had a few tweaks at ASUS' hands, as well as a fair selection of apps and tools thrown at it, though underneath it's the same platform we've been using for most of the year now. We're not entirely sure why ASUS bothered redesigning the back, home and app-switcher buttons, but the company's active desktop widgets – showing the latest email count from the Mail app (but not Gmail) and weather for your current location – are neat.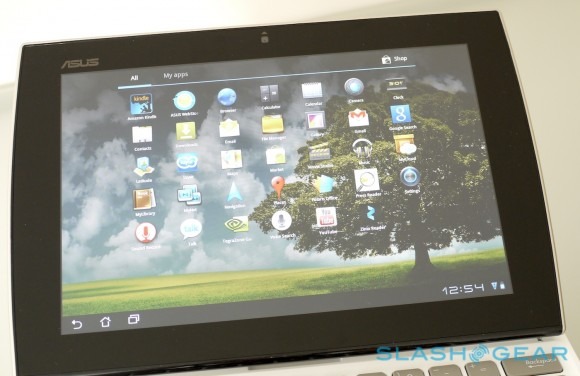 Preloaded apps include the ASUS WebStore, Movie Studio, MyCloud, MyLibrary, MyNet, Polaris Office, Press Reader, TegraZone and the Zinio Reader. Usefulness varies depending on what you intend to do with your tablet: most of the apps focus on accessing cloud storage (ASUS bundles a year's worth of unlimited cloud drive storage with the Eee Pad) or streaming media, plus you can remotely access your home computer – albeit only across the same network – using the MyDesktop app.
Of course, with Android 4.0 Ice Cream Sandwich freshly unveiled, the question is when – or if – it might appear as an upgrade on the Eee Pad Slider. ASUS has confirmed that the Transformer will get Android 4.0 "soon" and we're assuming that means the Slider shouldn't be far behind, but so far there's no official announcement.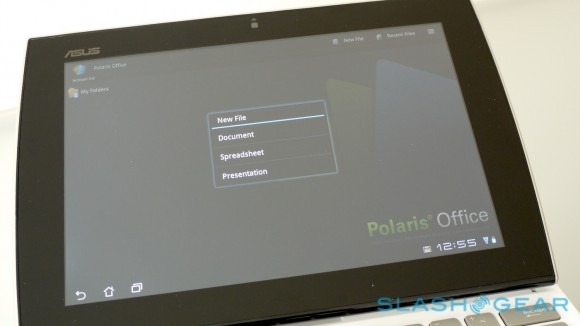 Performance was par for the course given the specifications, with no real surprises. For multitasking with Polaris Office, the browser and background audio playback, the Eee Pad Slider had no problems keeping up with our typing. HD playback was solid, and jitter free via the HDMI port (though you'll need to supply your own cable, since ASUS doesn't).
Camera
Just as the extra chassis bulk allowed ASUS to accommodate more ports than the Galaxy Tab 10.1, the Eee Pad Slider also gets a higher resolution main camera: 5-megapixels instead of 3-megapixels. Unfortunately, even with those extra pixels, the Slider does a poor job with stills.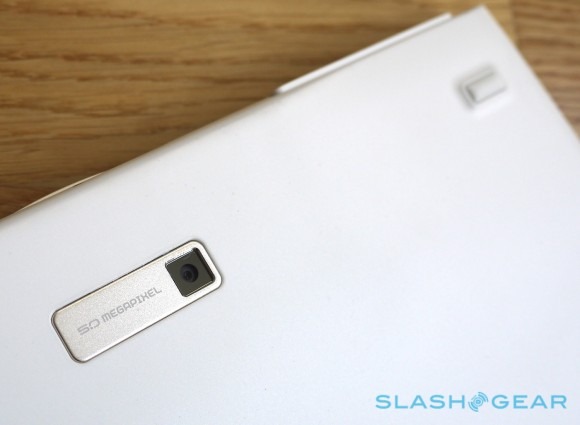 Colors are accurate but edges are soft, detail generally lost and low-light performance – not helped with the absence of an LED flash – is practically non-existent. Video can be recorded at up to 720p HD, and fares a little better, with more sharpness and detail. Still, we can't imagine many people opting to use the Eee Pad Slider for photography, both for usability and quality reasons.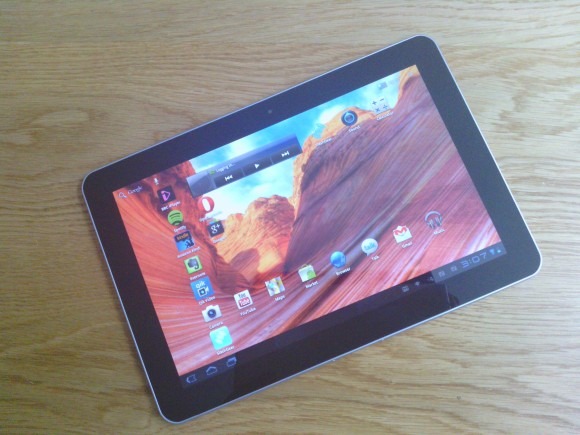 Battery
ASUS estimates up to 8hrs runtime from a full charge of the Eee Pad Slider SL101's battery, depending on use. In practice, with a mixture of typing, emailing, browsing over WiFi, streaming music and video playback, we managed 6-6.5hrs. That's with reasonably heavy use: in more typical circumstances we'd expect you to certainly last a day of occasional use.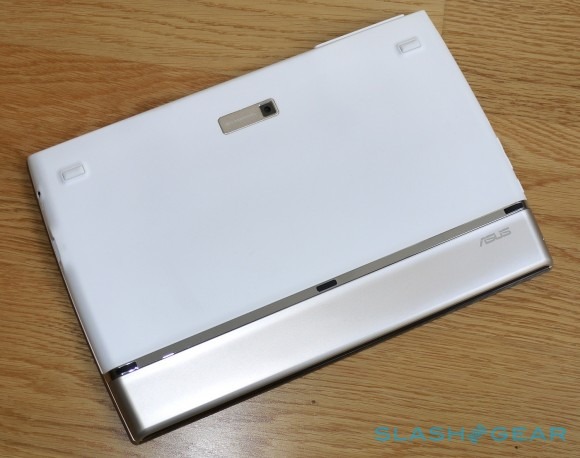 Unfortunately, here again the Eee Pad Slider is shown up by its Transformer cousin. Slap on the other Eee Pad's removable keyboard, and we found the integrated battery adds another 6-7hrs to the Transformer's runtime. That puts it more in the region of 12-15hrs, something the Slider can only dream of.
Wrap-Up
On paper, the ASUS Eee Pad Slider makes sense. All the instant-on flexibility of a tablet, with the convenience of a keyboard. Problem is, the biggest competition comes from under ASUS' own roof, in the shape of the Eee Pad Transformer. That has a better keyboard, the choice over whether or not to use it, and considerably more battery life.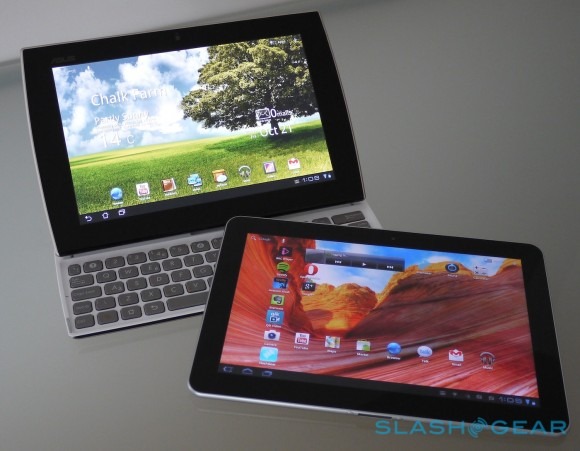 Yes, the Slider is slightly more portable than the Transformer with its keyboard docked, but ASUS has already begun teasing its imminent Transformer 2, borrowing styling – and most importantly scale – from the UX ultrabook range. That probably means a thinner Transformer 2 than the Slider, despite offering extra battery life and more flexibility. Finally there's price: in the US the Slider is $479, versus $505 for the Transformer and its keyboard, but in the UK the Slider is £429.99 while the Transformer has dipped to £429.89 with keyboard.
If ASUS had managed to get the Eee Pad Slider to market back in May, alongside the Transformer, we could see it having stolen some netbook sales. Now, with a new Transformer on the way, Ice Cream Sandwich in the pipeline and faster quadcore Tegra 3 processors promising both improvements in performance and power frugality, the Slider feels like it has missed its window.