ASUS Eee Pad EP101TC, EP121 and Eee Tablet get official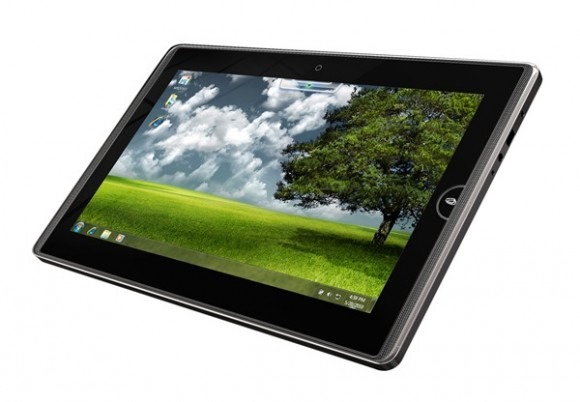 Computex 2010 doesn't kick off in earnest until tomorrow, but a few of the big name exhibitors have snuck in ahead with some early press conferences today.  ASUS are first out of the gate with their iPad competition, and they're taking a three-pronged approach: the ASUS Eee Pad will be available in 10-inch (EP101TC) and 12-inch (EP121) variants, and offer Windows Embedded Compact 7 and Windows 7 Home Premium respectively, while the ASUS Eee Tablet is a monochrome digital notebook, packing 2,450dpi touchscreen input sensitivity and targeted at note-takers like students.
The ASUS Eee Pad EP101TC doesn't have finalised specs as yet, but it measures just 12.2mm thick and weighs 675g.  The Windows Embedded Compact 7 OS promises the same flexibility and interface as existing users are expecting, but there'll be more cloud-integration too.
As for the ASUS Eee Pad EP121, that gets Windows 7 Home Premium for everything you'd expect a notebook to run, powered by an Intel Core 2 Duo CULV processor.  That also means it'll have the usual notebook connectivity, so expect USB and a webcam.  ASUS have apparently also developed a keyboard dock, similar to what Apple offer for the iPad, for when you're deskbound.  Neither model is expected to hit the market until Q1 2011, with prices tipped at between $399 and $499.
Finally, the ASUS Eee Tablet is a good example of very specialised segment targeting.  It uses a non-backlit monochrome LCD display, not E Ink, and as such as 0.1-second page transitions.  There's also a 2-megapixel camera, which ASUS envision students using to snap images of lecture slides and then annotate them with the high-resolution touchscreen and stylus.  Sync is via USB or microSD card, there's a battery good for up to 10hrs and various apps that give the impression of using a paper notebook – only one that you can search through more readily.  The Eee Tablet is expected in September 2010, priced between $199 and $299.
Press Release:
Stay Connected and Multitask with the Eee Pad

Engineering excellence meets stunning design in the ASUS Eee Pad, an ultra-slim and light yet high-performance slate device designed to provide users with a real time cloud computing experience. The Eee Pad will be available in two configurations.

The 12" Eee Pad EP121 is a full-featured slate computer that serves as a multimedia player, e-reader, and compact computing device. Powered by a CULV Intel® Core™ 2 Duo processor and the Windows® 7 Home Premium operating system, it effortlessly handles multitasking tasks whether enabling users to check their email and calendars, have video conferences, or process Microsoft Word and Excel documents simultaneously. The ASUS Eee Pad EP121 offers two convenient modes of character input-an embedded virtual keyboard or an innovative hybrid keyboard/docking station design. All of this power is available in a personal computing device that delivers up to 10 hours of usage.

For users seeking additional mobility, ASUS is proud to present the 10" Eee Pad EP101TC that runs Windows Embedded Compact 7, which provides an engaging user experience and delivers instant connectivity to the Windows world. It also provides a familiar full-featured user experience across various connected devices and cloud computing services.
Press Release:
ASUS Provides Tomorrow's Technologies Today at Computex 2010

Innovative Eee Pad and Eee Tablet extend ASUS' leadership in Cloud Computing

ASUS' leadership in innovation and design will once again be the focus at Computex 2010 in Taipei, Taiwan. ASUS will proudly showcase a wide range of products across five major categories: cloud computing, gaming, enthusiast-level PC components, multimedia and green computing. As a technological leader in cloud computing, ASUS offers a broad lineup of cloud-connected devices featuring on-the-fly data and multimedia sharing capabilities that consumers crave in today's market.

The Notepad Goes Digital with the Eee Tablet

Innovation meets cloud computing at Computex 2010 with the ASUS Eee Tablet. With a 2450 dpi touch resolution screen, the Eee Tablet is one of the world's most accurate and sensitive digital note taking devices, and gives the user the feel of writing on paper. Users can select one of the built-in notepad templates and have the option to store, sort and tag, organize or browse through them. Real time text annotations can also be made on-the-fly. The Eee Tablet makes reading easy, with text file page turns taking just 0.1 seconds-nine times faster than the page turns of normal e-readers. Reading documents or books remains easy on the users' eyes even after prolonged viewing periods.

The ASUS Eee Tablet features a built-in 2 megapixel camera that captures detailed images, letting the user grab screenshots of lecture slides and write notes on them instantly. It easily syncs up with a PC or notebook via USB or Micro SD to ensure that all notes, content, and calendars are constantly kept up-to-date. With up to 10-hours of battery life, the Eee Tablet has enough power for a variety of tasks. At the end of the day, users not only have an electronic notepad, but a media player and e-reader as well.