ASUS Eee Keyboard Video Touchscreen Demo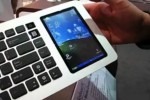 ASUS' Eee Keyboard remains one of the more interesting diversions in the Eee PC line-up, and in advance of the all-in-one media PC's June launch we're scouting out all the video of it we can.  UMPC Portal caught up with the Eee Keyboard back at CeBIT and gave us a good all-round video overview.
Video hands-on after the cut
The concept of the ASUS Eee Keyboard is straightforward: a nettop packed inside a keyboard shell, complete with a 5-inch LCD touchscreen replacing a numeric keypad.  The integrated screen is merely for remote control, however, and the primary point of the Eee Keyboard is to be hooked up to your big-screen TV; wired HDMI and Wireless HDMI versions are planned.
ASUS expect the Eee Keyboard range to start from around $400, jumping to around $600 for the Wireless HDMI version.  That gets you an Intel Atom 1.6GHz processor, 1GB of memory and either 16GB or 32GB SSD storage.  Connectivity also includes WiFi b/g/n and Bluetooth 2.0, three USB 2.0 ports and VGA output.