ASUS Eee Keyboard gets early review, breakdown [Video]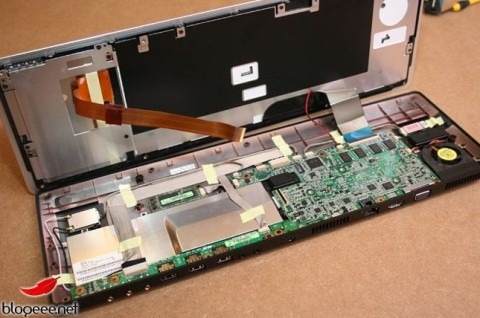 We're still waiting for an official release for ASUS' Eee Keyboard – the latest we hear is that it should drop sometime in August – but that hasn't stopped French site Blogeee from getting their hands on one.  Rather than cherish it for the rarity it is, they've decided to open the Keyboard up and find out what's making it tick inside.
Video demo after the cut
As you might expect, it's basically a long, flat netbook, with a custom circuit-board to which ASUS have frustratingly soldered the 1GB of RAM.  Cooling is via heat-pipes to the Atom N280 1.66GHz processor and accompanying chipset, leading back to a 40mm exhaust fan which, Blogeee report, makes little noise.  Other components are more modular, such as the Bluetooth and WiFi adapters and the 16GB SSD.
The battery is a 1,880mAh pack that Blogeee estimate will be good for up to 1hr 40 minutes wireless runtime.  The unit they've acquired also has a Silicon Image wireless HDMI transmitter which also takes care of up to 1080p graphics and HDCP certification, though we've previously heard that not all models will include it. 
Blogeee end up a little confused about the point of the ASUS Eee Keyboard, suggesting that the storage is too little for a true HTPC while a regular netbook or nettop will provide just as good an internet machine.  We're still keen to try it out ourselves, but for now we'll have to wait for the official release.
ASUS Eee Keyboard feature demo:
[Thanks Kat!]