ASUS Eee Keyboard (finally) coming February 2010?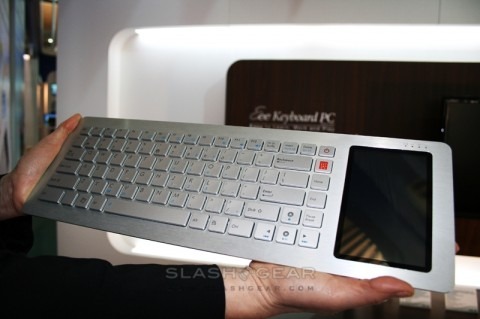 ASUS' Eee Keyboard has been so long coming, we've reached another CES before it has arrived on the market.  First announced back at CES 2009, the last we heard about the touchscreen-nettop-in-a-keyboard was some nebulous statement from ASUS UK the underlying message of which was that they didn't have a clue when it would go on sale.  Happily things have firmed up since then, and ASUS are now apparently claiming that the Eee Keyboard will drop in February 2010.
Of course, we've been burnt many times before so we won't be betting the farm (if we even had a farm) on seeing the Eee Keyboard in the hands of relieved shoppers next month.  Still, it would be nice post-CES surprise, especially if the $499 to $599 price estimate pans out.  That gets you a last-gen Atom N270 processor, 1GB of RAM, either 16GB or 32GB of SSD storage and a 4hr battery, along with the 5-inch Widget display.  Unfortunately the Wireless HDMI kit will be sold separately.