ASUS Eee Box reviewed: frugal, flexible & handles 720p a charm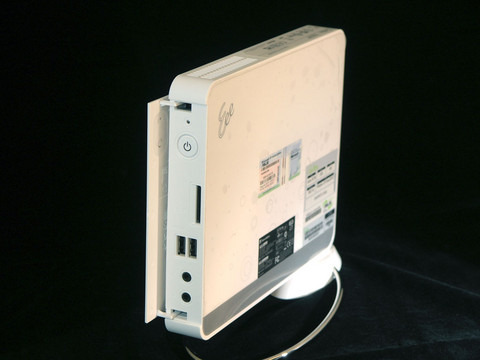 ASUS' Eee Box reached the first reviewers at the end of last week, and today HotHardware have published their own thoughts on the compact desktop PC.  Based, as with much of the notebook Eee range, on Intel's 1.6GHz N270 Atom CPU, their review unit had 1GB of DDR2 RAM, an 80GB hard-drive, gigabit ethernet and draft-n WiFi.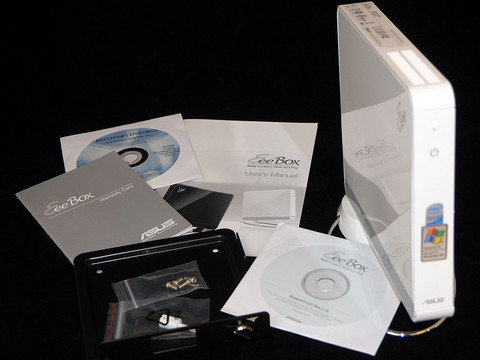 "In some respects, when we think about what the capabilities of a $349 desktop system should be like, we can't help but be impressed what Asus has achieved and the overall value of the Eee Box. What's more impressive though is the Eee Box's absolutely tiny form-factor and completely miserly power consumption. The original Eee PC notebook cultivated quite an enthusiastic following in the marketplace and we think the Eee Box is likely to as well" HotHardware
In the box is a wired keyboard and mouse, so all new buyers need supply is a monitor hooked up to the Eee Box's DVI port (ASUS include a DVI-to-VGA adapter for older displays).  Upgrade possibilities are reasonable considering the size: the hard-drive slides out underneath, while the side cover pops off to show the Eee's notebook RAM.
More interestingly, perhaps, is the Eee Box's capabilities with high-definition media.  720p playback presented no problems, with CPU load ranging between 35-50%, although 1080p playback was juddery with dropped frames.
Still, HotHardware are impressed and I'm all the more keen to get my hands on an Eee Box of my own.  Add in truly frugal power consumption and you have a machine likely to get plenty of attention.