ASUS Eee Box B202 low-cost desktop PC breaks cover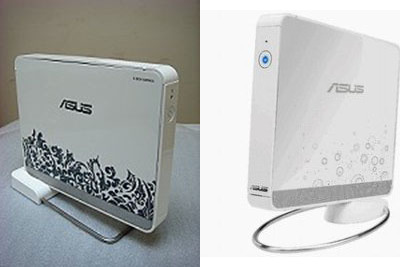 The original renders of ASUS' Eee PC desktop version may have looked like a Wii knockoff, but at least it was a slick knockoff; this new picture, purported to be the real thing, shows a far dumpier and more humdrum system. The Eee Box B202, as it's apparently called, will feature Intel's Atom processor and 945 chipset, 1GB of DDR2 RAM, an 80GB hard-drive and Linux OS. In fact, as suspected, that would make it pretty much the Eee notebook but in a desktop case.
Total weight is quoted at less than one kilogram. That's similar to the Eee notebook, and possibly a result of the power adaptor being fitted inside the casing.
While the lovely curved base station seems to have been junked, for some reason the side decals have not only been kept but made bolder. Admittedly it will mean the B202 will have a narrower footprint, but it does make it look cheaper. According to Chile Hardware the Eee Box will be unveiled officially at Computex 2008.
Asustek is rumored to be considering splitting off the Eee brand, so as to minimise overlap between Eee products and more traditional ASUS devices.
[via Engadget]