ASUS Eee Box B201 with Celeron CPU & 16GB SSD appears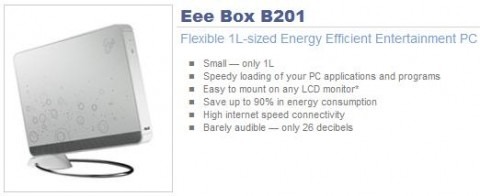 Hot on the heels of the Celeron 220-based Eee Box B203, ASUS have quietly added a further Celeron-based nettop.  The B201 presumably slots in as the new entry-level model in the range, and packs both the Celeron 220 processor together with a standard 16GB SSD.  A 160GB SATA-II hard-drive is an option, as is upgrading RAM from the standard 512MB to 1GB or 2GB.
The main difference from the B203, then, is the switch to solid-state storage; the B203 comes in 80GB, 120GB or 160GB capacities.  Connectivity is still gigabit ethernet and WiFi b/g/n, together with four USB 2.0 ports, a DVI output, S/PDIF audio output and standard audio in/out.  There's also a multiformat memory card reader and an external WiFi antenna.
As with the B203, the 1kg B201 has VESA mounting holes and can be fixed onto the back of a monitor or TV.  With only 16GB of storage it's not much of a HTPC, but it would make for a capable media extender, with content stored elsewhere on your network. No sign of pricing or availability details as yet.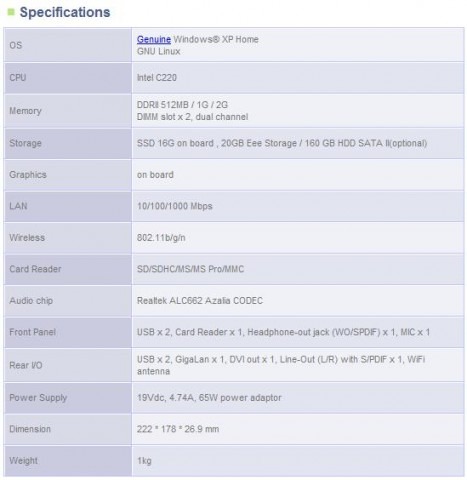 [via EeePC.IT]